EWING, NJ…The College of New Jersey is pleased to announce that two members of the class of 2013 have been selected to receive Fulbright grants. This marks the fourth consecutive year that TCNJ students have been selected.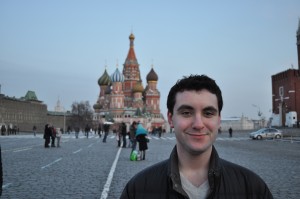 Bryan Furman (South Brunswick) was awarded a Fulbright Study/Research Grant to do work in Tajikistan, and Natalie Nazar (North Bergen) received a Fulbright English Teaching Assistantship in Costa Rica.
Furman designed and proposed research that will focus on the evolution of Tajik foreign policy since 1991. He chose Tajikistan because he speaks Russian and Persian, the two most commonly spoken languages in Tajikistan. "While in Tajikistan, I plan to conduct more social psychological research on intergroup relations–I carried out a similar project in Moscow last year with help from TCNJ Psychology professors Drs. Jarret Crawford and Shaun Wiley–and improve my Russian, Persian, and Uzbek language skills," said Furman.
Furman double majored in International Studies and Psychology, with minors in Central Eurasian Studies and Russian Studies, and belongs to five honor societies for academic success.  For the 2011-2012 academic year, Furman received a Boren Scholarship to study abroad in Moscow. He was the first Boren Award recipient at TCNJ. Furman also spent an intensive summer studying Persian with a Foreign Language and Area Studies (FLAS) Fellowship at the University of Wisconsin-Madison's Persian Language Immersion Institute . He also plans to continue "Time for Tajikistan," an initiative he started at TCNJ to bridge American and Tajik students via social media, and explore internship and volunteer opportunities with governmental and nongovernmental organizations. Furman will attend Georgetown's Master of Arts program in Russian and East European Studies next fall before applying to PhD programs in Political Science and Public Policy.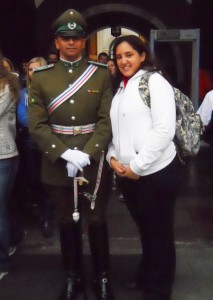 Majoring in English and Secondary Education, Natalie Nazar learned about the Fulbright program through a good friend and began drafting her application with the help of Nancy Freudenthal, assistant provost. Nazar was originally chosen as an alternate for the Costa Rica program, on which she reflected: "I did not think I would get Costa Rica because they only have two spots and I didn't think anyone would turn down a Fulbright."
Meanwhile, she applied to a program in Brazil and began interviewing for teaching positions in New Jersey. Five days after graduation, she received a call from Fulbright that she would be heading to Central America.
Nazar will be spending 10 months in Costa Rica assisting teachers with English instruction and will be creating activities that will allow students to use their English vocabulary. She anticipates starting the program in winter 2014.
The Fulbright Program is the flagship international educational exchange program sponsored by the U.S. government and is designed to increase mutual understanding between the people of the United States and the people of other countries. The primary source of funding for the Fulbright Program is an annual appropriation made by the U.S. Congress to the U.S. Department of State, Bureau of Educational and Cultural Affairs. Participating governments and host institutions, corporations and foundations in foreign countries and in the United States also provide direct and indirect support. Recipients of Fulbright grants are selected on the basis of academic or professional achievement, as well as demonstrated leadership potential in their fields. The Program operates in over 155 countries worldwide, and awards approximately 8,000 grants annually.