The College of New Jersey has again been selected as one of the best and most interesting schools in the 2014 updated edition of the bestselling college guide book, Fiske Guide to Colleges.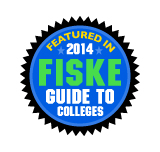 TCNJ is one of six total New Jersey institutions included and one of the two New Jersey public schools listed. Fiske also touts TCNJ as the second most selective institution in the state.
TCNJ earned its spot among the best institutions featured in the Fiske Guide based on its academic excellence, broad range of subjects, diverse student body, financial aid awards, athletics, campus setting, and student quality of life. TCNJ is especially recognized by Fiske for its exemplary focus on undergraduates, as well as its emphasis on community.
Fiske acclaims TCNJ as "one of the nation's 'budget Ivy's,' with reasonable tuition and a location that offers media types, artists, and budding scientists a relaxed suburban haven within shouting distance of the editors, producers, directors, curators, and pharmaceutical companies of New Jersey, Pennsylvania, and New York."
Compiled by former New York Times education editor Edward B. Fiske, the annual Fiske Guide to Colleges has long been turned to by parents, counselors, and college-bound students for an independent voice in college admissions. The guide is available in paperback as well as digitally at CollegeCountdown.com.