John Castaldo '82, '83 was installed as Executive Director of Alumni Affairs on Sept.1. In his new role, Castaldo will provide senior leadership to the Office of Alumni Affairs and the Alumni Association and lead a team that includes Lisa McCarthy '88, '91, Alex Lefebvre, and Ann Guarnaccia.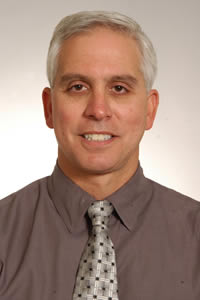 In making the announcement, John Donohue, Vice President for College Advancement, noted that "Castaldo is blue and gold through and through. He brings with him a passion and determination to engage alumni across the generations in celebrating and recognizing our past and ensuring a bright future for decades of alumni to come."
"I'm looking forward to working with alumni, the Alumni Association Executive Board and the Alumni Association. Through an active partnership, we can build bridges to others who have had great connections with the College," Castaldo says.
"I seek to foster new levels of engagement with all those connected to TCNJ. The overarching goal is to promote active volunteerism by alumni because their involvement is essential to creating stability and continued growth."
Castaldo has served the College for nearly 20 years—most recently as Executive Director for Athletics and Recreation since January 2008. Prior to that, Castaldo coached the TCNJ's men's basketball team for 14 seasons, with a record of 200-149 and winning the coveted NJAC Conference Championship in 1998—only the third in TCNJ history.
A native of Trenton, Castaldo earned a bachelor's degree in urban administration and a master's degree in administration of physical education and athletic management from TCNJ. His wife, Colleen, and several family members, including a daughter, also are TCNJ alumni. Another daughter is currently a student at the College.
One of Castaldo's top priorities is to expand services and outreach to TCNJ alumni nationwide. "As we work to strengthen and expand our alumni network nationally, all alumni, as well as the College, will benefit from developing global ties," he says.