Established in January 2003 in honor of '36 graduate Helen Shaw, the annual Helen Shaw Staff Excellence and Special Achievement Award recognizes dedicated TCNJ staff members, whose commitments to TCNJ have improved the college community as a whole. This year's award ceremony recognized eight nominees—three individuals and one team of five—at an afternoon reception on Wednesday, Sept. 18 in Paul Loser Hall.
This year's winners, Dave Conner and Scott Sferra, have demonstrated outstanding service to TCNJ, making lasting impressions on staff, faculty, and students alike.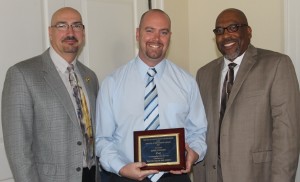 As the assistant director of Fraternity and Sorority Life (FSL), Dave Conner has gone above and beyond in his work of advising TCNJ fraternities and sororities. Sporting a friendly smile and sincere concern for TCNJ Fraternity/ Sorority students, Conner has invested his time in creating FSL programs that have become indispensable within the Greek community, including the Presidents Ball and many facets of Greek week. He also implemented the "Five for Five" program, a program asking graduating FSL members to donate five dollars a year for five years to TCNJ's Greek life programs.
An advocate for Greek life improvement, Conner works with chapter leaders to eradicate the practice of hazing and has instituted a comprehensive assessment program for fraternities and sororities. His assessment has led a number of TCNJ chapters to receive national, regional, and college recognition and awards.
Conner also works outside of his explicit duties, providing assistance to all programs in need of a helping hand. He judges events at the Homecoming spirit week, chaperones at Senior Week, helps interview candidates for new faculty positions, and is an active supporter of student organizations. A chief contributor to the creation of the Broadening Horizons student travel grant program, he is dedicated to connecting students to each other, to the school, and to the community.
2013 graduate Max Bernstein calls Conner "an incredible mentor, role model, and adviser" stating, "His intelligence is astonishing, as is his willingness to always be available to answer any question or guide through any decision-making process. I can honestly and unreservedly claim that Dave has played an unbelievably vital role in my success."
Sigma Sigma Sigma Sorority member Theresa Genthe adds, "Dave's professionalism, personal qualities, and dedication to bettering the College community stand out as attributes that many people can only hope to possess. I cannot think of a person whose work with TCNJ students gets taken for granted more or anyone more deserving of recognition for their hard work and dedication to TCNJ's community than Dave."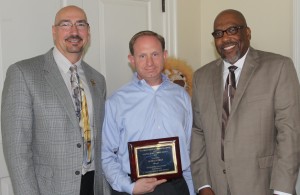 Scott Sferra, associate director of student accounts, has become an indispensable asset to Lions' Emergency Medical Service Squad (LEMS), applying his experience, innovation, and a genuine passion for student education and safety to his position as the organization's supervisor.  Sferra teaches students of every level to be calm, knowledgeable, and effective during a medical crisis, drawing from his experience as a 12 year member of the Pennington Road First Aid Unit.  Over the 2012-2013 academic year, Sferra led LEMS through the 205 emergency responses, while working fulltime for student accounts. His excellent leadership within LEMS led to his receipt of the College and University Public Safety Meritous Service Award in June, and the organization's receipt of TCNJ's "Excellence in Service" award in April.
"The change that Lions EMS has undergone since Scott has become transformative," says Timothy Grant, Captain of TCNJ's campus police, "His credibility in the local emergency service has given Lions EMS immediate standing as a professional organization."
"On top of being always available if an issue arises and doing everything he can to help solve it, he [Sferra] gave up $1,200 from a First Aid Course he normally teaches every year in Princeton, so that we could teach the class ourselves and use that money for the organization," said TCNJ students and EMS members John DeJesus, Megan Wyles, and Margaret Fuller. "We really couldn't ask for a more caring and devoted advisor."
Alan Amtzis, director of the Master of Education: Instruction Program, nominated Lisa DeMarsico, Susan Hydro, Deidre Queen, Regina Littwin, and Danielle Reilly for their outstanding work within the Office of Graduate studies. "Separately and together their work on behalf of TCNJ's graduate community makes a strong statement about professionalism, work ethic, service, and the quality of our interaction with the wider world of NJ higher education," said Amtzis.
Carol Wells, program assistant in the Department of Health and Exercise Science (HES), received a nomination from HES faculty members Anne Farrell, Jie Kang, Avery Faigenbaum, Nick Ratamess, Jill Bush-Wallace, Dan Chandler, and John Farrell for the improvements she made to the HES website and to the HES program as a whole. Farrell wrote, "Since joining the Department of Health and exercise science in December 2011, Carol Wells has exceeded expectations and has become an essential partner in our educational programs, academic events and institutional activities. She is committed to excellence in everything she does."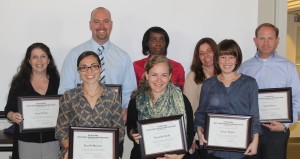 The Helen Shaw Award selection committee would like to thank to Angela Lauer Chong, Timothy Grant, Alan Antzis, Anne Farrell, Jie Kang, Avery Faigenbaum, Nick Ratamess, Jill Bush-Wallace, Dan Chandler, and John Farrell for their nominations, as well as the Staff, Faculty, and students who provided letters of support for specific nominees.
For more information about the award, including information about how to write and submit a nomination, visit http://hshaw.pages.tcnj.edu/