Meghan Sooy, director of disability support services, is TCNJ's advocate for students with disabilities. But on Friday, Oct. 4, she got to play a different kind of leadership role—that of grand marshal of the 3rd Annual NJ Disability Pride Parade in Trenton. Sooy welcomed parade goers at the opening ceremony and spoke about the purpose of the event before leading the parade as it stepped off from the State House. Over 500 people and organizations representing a wide variety of disabilities were in attendance.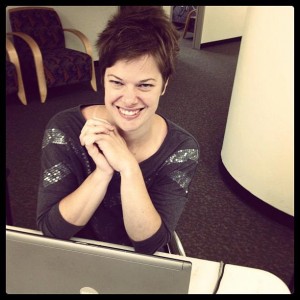 Sooy came to the College from the University of Arizona, where she served as an access consultant for seven years. At TCNJ, in addition to managing ADA compliance and physical access to campus spaces, her work also centers on advancing access to programs and examining barriers to access in the campus community and beyond.
"Our main goal is to reframe disability from a medical model to a model of human diversity," said Sooy.
In her short seven months at TCNJ, she has been instrumental in spreading that message, working collaboratively with administrative and academic departments alike.
"For instance, today I spoke with a First Seminar Program class, talking to them about disability as a culture as opposed to from a purely medical perspective," she said. "In my professional role, I have an obligation to challenge and, hopefully, ultimately change, perspectives relating to the disability experience, to facilitate an attitudinal shift through education."
Sooy has involved herself in disability culture for quite some time, participating in the Paralympic trials at both national and international levels for 10 years between the ages of 14 and 24. Sooy competed in wheelchair track and field, where she excelled in the 100- and 200-meter sprints, traveling around the country to national championships in Arizona, New Mexico, and Washington state, and world championships in Sydney and London.
"My message is always one of disability empowerment," Sooy said. "We are stronger than the stigma."