It could be said that Dave Conner was the ultimate ladies' man last weekend in Los Angeles—at least among those in attendance at the annual meeting of the National Panhellenic Conference (NPC) on Oct. 12.
NPC, one of the largest advocacy organizations for women, recognized Conner, assistant director for fraternity and sorority life at The College of New Jersey, as the Outstanding Panhellenic Advisor for its 2011-13 biennium awards. It is the sole award given by NPC to an individual Panhellenic advisor.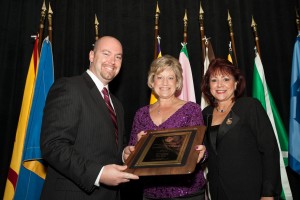 Playing a critical role to enhance the health and safety of students by changing the social culture of fraternities and sororities, Conner guided TCNJ's Panhellenic Council in developing and implementing a new social policy designed to reduce high risk behavior and activity, and also empower sorority women to take a stand against bystander behavior. He has worked with chapter leaders to eradicate hazing practices and develop rich member education programs.
"While it may appeal as an outlet to unplug or take a break from learning, sorority life at TCNJ is a highly engaged and intentionally planned experience designed to expose members to a wide breadth of educational and developmental experiences," said Conner.
Under his direction, in 2012, fraternity and sorority members volunteered over 15,000 hours and raised over $96,000 for more than 100 charitable organizations.
"Dave's work has created a valued, holistic experience or our students that is unparalleled at the College," said Angela Lauer Chong, associate dean of students/director of student conduct at TCNJ. "Not only are more students joining fraternity and sorority life, but the community is intentionally growing in a way that offers experiences that reflect the needs of our diverse community."
TCNJ's Panhellenic Council created the David E. Conner Panhellenic Excellence Scholarship on campus. Conner has also earned Phi Kappa Tau National Fraternity's Outstanding Greek Advisor Award and NGLA's Philippi Outstanding Advisor Award.
"Service to the Panhellenic community makes Dave a standout for recognition," said Nicki Meneley, executive director of the NPC. "His leadership as a sole advisor for more than 1,300 students in 30 fraternities and sororities is a remarkable accomplishment."