The College welcomes Treby Williams to its Board of Trustees. She was sworn in on Tuesday, October 8, 2013 in Paul Loser Hall at The College of New Jersey.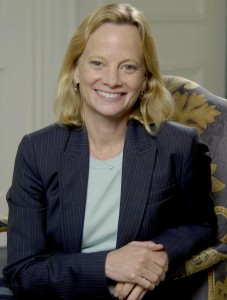 Williams, of Princeton, currently serves as the acting executive vice president of Princeton University, appointed in June 2013. She is leading efforts to enhance campus life and to modernize the institution's operations and infrastructure, with direct oversight of human resources, facilities, campus life, public safety, services, and audit and compliance efforts.
"We are thrilled to have Treby join our board," said TCNJ President R. Barbara Gitenstein.  "The College will benefit from her extraordinary and varied experiences within education."
On TCNJ's board, Williams will serve as a member of the College Advancement, Student Affairs and Finance and Investments Committees.
Prior to her time at Princeton University, she was an assistant U.S. attorney in the southern district of New York and the district of New Jersey from 1992-2004, and worked for three years as an attorney with Coudert Brothers in London and New York. She has also served as the chair of the board of Princeton Day School. She is a 1984 graduate of Princeton University, and earned her law degree from New York University.