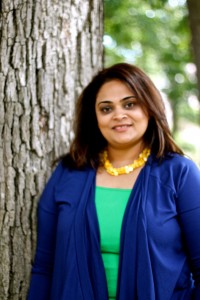 Jigna Rao was a practiced patient advocate even before she set foot on campus. But majoring in sociology, with a minor in public health, has given her voice added authority. On Nov. 1 she will address health experts from all over the world at a symposium on tuberculosis in Paris organized by Harvard Medical School's Department of Global Health and Social Medicine.
Rao will discuss the psychosocial needs of patients with TB, still one of the deadliest diseases in the world. She's an expert on the subject, having been diagnosed with TB herself. "While everyone is focusing on research and medication, there needs to be equal focus on things that are not clinical or medical – the humanitarian needs," she says. "There are so many myths around TB, and in certain societies it holds great penalties for women."
Her talk caps a personal journey she could never have imagined when she arrived from Mumbai, India in 2000. During an infertility workup six years later she learned she had pelvic TB, a silent disease often misdiagnosed or overlooked in the U.S. She recovered, but the TB had traveled through her bloodstream and lodged in the fallopian tubes, causing irreparable damage. In 2007 she discussed the experience in a newspaper article. "After that the advocacy and activism snowballed. I also took time to find myself again, and refocus on what I wanted to do with my life," says Rao, who was employed at Drumthwacket, the governor's residence.
In 2012 TCNJ accepted her as a rising sophomore, with credit for courses taken in India and at Mercer County College.  "I wanted to go to a college that was small enough not to get lost, and where I could have easy and quick access to professors," says Rao, 39.
Many of her courses have been taught by Dr. Lynn Gazley, a medical sociologist in the Department of Sociology & Anthropology. "Jigna throws herself into everything 100 percent. You can see her picking up what she learns in class and immediately applying it to her advocacy work," Gazley says.
With graduation looming in December, Rao is excited and sad at the same time. "I hate to leave. TCNJ is home to me now," she says. "People here are very inclusive. Unlike in the real world, everyone here at TCNJ wants each other to succeed."—Mary Jo Patterson