In South Africa, which has the highest prevalence of HIV infection in the world, messages urging audiences to adopt safe sexual behavior are everywhere – on billboards, social media, in song and dance, and in a hugely popular TV drama, "Intersexions."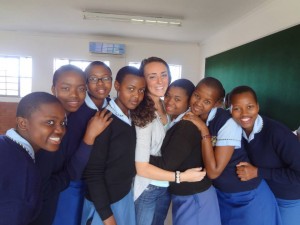 Eight TCNJ students explored the country's anti-AIDS campaign in person during a new faculty-led health communication internship this past August. For three weeks they studied how South Africa communicates urgently needed health information, especially when it goes against prevailing social norms. South Africa makes abundant use of "entertainment education," which embeds health information in popular entertainment.
The internship was created by John Pollock, a professor in the Communication Studies department, who prepped interested students by teaching a research course on entertainment education last spring.
"I wanted to expose our students to these very imaginative programs. There was a clarity, on the ground, about the problems faced with those with HIV and AIDS, and those at risk of gender violence, that no amount of reading could have prepared us for," he said.
Pollock's students stayed in Durban in the province of KwaZulu-Natal. At the university there they attended seminars and conducted fieldwork with U.S.-aided groups. But they also jumped into things with both feet, traveling to formerly segregated secondary schools in the countryside and joining student leaders in acting out skits about gender-based and domestic violence.
"It was the experience of a lifetime," said senior Kelsey Zinck, a communication studies major. She said the internship shifted her thinking about a career. "I'd thought of public health on a national level. But after this I started thinking about working internationally, specifically with a non-governmental organization in Africa."
Jordan Kohn is still processing her takeaway from the trip, two months later. "The experience made the world so much flatter and understandable to me," said Kohn, a senior on the department's public and mass communication track. "South Africa's problems might be greater than a lot of places in the world, but the methods of combatting them are universal."
The internship, a credit-bearing program, will be repeated next summer.
Learn more: Keyan Tomaselli, South Africa's leading expert on entertainment education to fight AIDS and gender-based violence, will give a lecture at TCNJ on Thursday, November 7, 11:30 a.m. – 12:30 p.m. in the Library Auditorium.