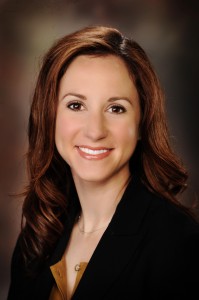 After a national search and a recent campus visit, Amy Hecht will become The College of New Jersey's vice president for student affairs. Amy will begin her tenure at TCNJ on January 2, 2014, where she will assume leadership for the College's student affairs program.
"I really found TCNJ to be a place that wants innovation, cares about students, cares about the undergraduate experience," she said of what drew her to the College. "There's a real desire for some academic-student affairs partnerships, and the kind of philosophy at TCNJ that student affairs should complement what's happening in the classroom really aligns with what I believe in, and what I want to try to accomplish as a student affairs educator."
Amy brings over 10 years of experience and a track record of proven leadership and energy in student affairs administration. Since 2009, she has served as assistant vice president for student affairs at Auburn University in Auburn, Alabama. In this capacity, Amy was responsible for the areas of residence life, Greek life, student conduct, case management and crisis response, student center, student involvement, the parent and family office, and student media. She played an integral role in reorganizing student affairs at Auburn and building and strengthening partnerships with other areas around the university. Prior to her time at Auburn, Amy served as associate dean of students at Temple University in Philadelphia, assistant dean of students at Temple University, and assistant director of student activities at Cabrini College in Radnor, PA.
Originally from southern Florida, Amy received her bachelor's degree from Florida State University and has both a master's and doctoral degree in higher education management from the University of Pennsylvania. She enjoys traveling and fitness. Having taught fitness classes in the gym at Auburn, Amy is looking forward to running the loop at TCNJ!