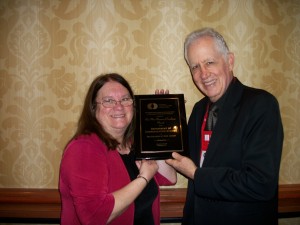 The National Communication Association (NCA) has given its 2013 Rex Mix Program of Excellence Award, which recognizes the college or university with the best undergraduate communications studies department, to The College of New Jersey. In presenting the award, Dr. Armeda Reitzel, vice chair of the Undergraduate College and University Section of the NCA, cited TCNJ's curriculum, faculty commitment, faculty-student engagement, and the academic and professional success of its students.
"The program emphasizes (both) theory and application in a variety of settings for human and mediated communication," she said. "The depth of student-faculty collaboration is apparent through course work activities, state and national research, student outreach and mentoring, and the establishment of personal relationships during these endeavors. It is clear that the institution is selective, and there is a developed culture of student-faculty research threaded throughout the program."
Professor John C. Pollock traveled to Washington, DC, to accept the award, which was presented on November 22,2013 at the organization's annual conference. He expressed gratitude to the Undergraduate College and University Section of NCA, and appreciation for colleagues in TCNJ's Department of Communication Studies who together have helped the department become a "national leader in student-faculty engagement."
"We are delighted that our commitment to student-faculty engagement and the empowering results of that commitment have been recognized at the national level," added Professor Lorna Johnson, chair of the department. "We are grateful for the encouragement it offers."
The National Communication Association is the largest national organization dedicated to advancing communication scholarship and education. Headquartered in Washington, DC, it serves scholars, teachers, and practitioners.