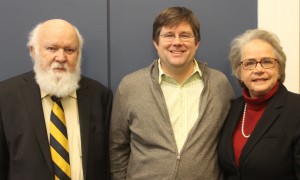 Associate Professor of physics Nate Magee has big plans to spend the next year studying tiny ice crystals that form in high altitude cirrus clouds and how they affect our understanding of climate change. His research just got a boost thanks to the creation of a generous new award.
Provost and Vice President for Academic Affairs Jacqueline Taylor announced that a $100,000 gift from TCNJ President R. Barbara Gitenstein and her husband, Dr. Donald B. Hart, will make it a bit easier for faculty members to continue their own scholarship outside of the classroom by way of sabbatical.
"The Gitenstein-Hart Sabbatical Prize will be awarded to one full-year sabbatical recipient annually to help support them in their scholarly research," said Taylor.  "With this gift, we can expand the opportunity for generations of faculty in early or mid-career to engage in the kind of sustained deep scholarship that will profoundly shape not only their careers but the College."
Sabbaticals are awarded competitively to tenured faculty members and are granted for the purpose of conducting and immersing oneself in deeply engaging first-rate research. This award will help to offset a portion of the reduced sabbatical salary for the selected faculty member.
"My husband, Don, and I experienced first-hand how difficult it is to juggle finances, family obligations, and professional aspirations at the beginning of an academic career," said President Gitenstein. "We hope that this award will make it easier for TCNJ faculty to manage these responsibilities and help ensure that TCNJ faculty have the resources they need to advance their research and their careers. Time to immerse in research, scholarship, or creative activity benefits the faculty member and the results benefit our students and enhance the reputation of TCNJ."
In addition to the gift that created the endowment for the Gitenstein-Hart Sabbatical Prize, the pair has also made a special gift this year so that the first recipient could be selected immediately. As the endowment grows, so will its capacity to support more faculty members who decide to take a full year of sabbatical leave.
"The award was a really nice surprise," Magee said. "I really appreciate—and I know other faculty do, too—that Dr. Gitenstein, Dr. Hart and all of TCNJ's administrative leadership is so sincerely supportive of faculty development."