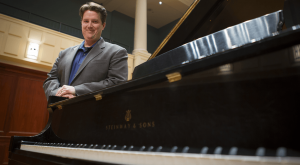 Most of us picture the typical classical music concert as a tuxedo-clad orchestra seated inside a large concert hall, playing music that's well over a century old.
David Vickerman, TCNJ's director of bands, wants to change that image.
"I go to a rock concert and walk away being blown away not necessarily by the music, but by the experience and the feeling," he says. "That's what I want to do. I want to bring the artistic experience back to the audience. I want the audience to walk away talking about it, feeling something, being affected in some way shape or form"
Vickerman has been experimenting with how audiences engage with classical music both as conductor of TCNJ's Wind Ensemble and as the associate conductor of the Washington, DC-based Great Noise Ensemble. At previous shows he has both bathed audience members in complete darkness and used lighting and multimedia to enhance the listening experience.
"I grew up watching cartoons, 24/7, so I think the visual stuff provides, for lack of a better term, 'eye candy' to pay attention to while listening to the music," he says.
Another way Vickerman is bringing classical music to modern audiences is through undertaking such as "The Sgt. Pepper Project," which he shepherded for the Great Noise Ensemble. The group commissioned composers to write music inspired by each track of the classic Beatles album. Vickerman conducted the premiere last fall.
Such shows help engage audience members who wouldn't typically attend classical music concerts, Vickerman says. "We can tap into something because almost everyone has heard a Beatles song. So it's kind of like that gateway drug [to classical music]," he says, adding that in March, TCNJ's Wind Ensemble will play a concert of rock music–inspired selections at the College Band Directors National Association conference in Boston.
So far, the response to Vickerman's work has been positive on both sides of the conductor's stand.
"The students buy into the concert so hard that the performance is better; it feeds on itself," he says.
And what about audiences?
"One woman came up to me about one of the pieces we played; she wanted it to be played at her funeral. She wasn't talking about the video I did with it, or the lights I did with it; she was talking about the music."
—Joel Keller