For a society that puts its faith in research and technology to solve complex problems, what constitutes "the best science" and how it is achieved are vital questions.
For medical sociologist Lynn Gazley, the social frameworks behind scientific inquiry — who gets to ask the questions and answer them — are an important part of the equation.
"We rely on evidence-based health data to make decisions about everything from treating patients to designing public health interventions, so it is important to understand who is producing that data and how relevant and applicable it is," the assistant sociology professor says.
For example, in examining the participation of Thai researchers in large, international clinical trials of antiretroviral drugs, she was struck by the Thai's marginalized status as scientists and by the trial's irrelevance for the patients being treated in their Bangkok-based HIV clinic.
"[Thai researchers] felt welcome to provide patients and conduct study visits, but not to contribute analysis," Gazley said. "They also found the international trials were not applicable to Thais, who are generally smaller than the trial participants and so require lower doses, have a different diet, and different background health issues."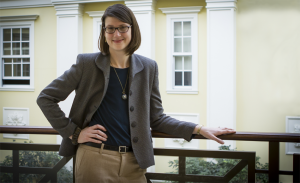 As a collaborator on the National Longitudinal Study of Young Life Scientists, a multiyear project funded by the National Institutes of Health (NIH), Gazley currently is examining a related question: how factors such as gender, race, and socioeconomic status shape careers in the life sciences. While it is a widely held view that diverse teams of researchers are better, more innovative problem-solvers, minority participation in these fields still lags.
The NIH study — the largest of its kind — is following a diverse group of more than 250 students through graduate school and deep into their careers "to better understand … what challenges and barriers they may face, and whether they are being stereotyped or marginalized," Gazley said. Her involvement already is generating a wealth of data and research opportunities for TCNJ's public health and sociology students.
"I have a research-intensive course with six students this spring," Gazley said. "Several said they were excited to have an opportunity to see what grad school might be like from an insider's perspective."
—Tracey Regan