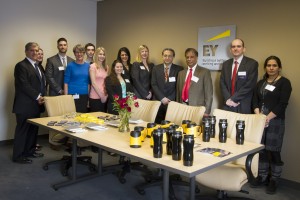 Accounting students at The College of New Jersey are highly ranked and sought after in the business world. Their preparation garners them consistently high passing rates on the CPA exam and over 90 percent of TCNJ accounting interns receive job offers from their employers.
Now, thanks to the support of TCNJ accounting alums and the public accounting firm EY, students will be able to take their undergraduate accounting experience to the next level and leave the College with practical skills in auditing that were once only achieved during on-the-job-training.
The College of New Jersey's School of Business officially opened its newest educational resource for students – the EY Audit Lab – that will give them the ability to work with advanced audit software and real-time data.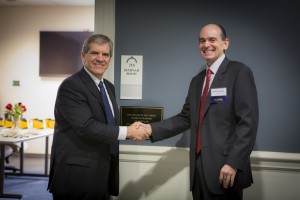 The result of collaboration between Shawn Rogers '93 and Hossein Nouri, professor of accounting, the lab will give students hands-on experience and allow them to practice the theory they're learning in class.
"Traditionally, auditing is a skill you learn in on-the-job training when you begin working at a public accounting firm," said Rogers. "The lab will give TCNJ students an advantage in that they'll get experience working in teams and working in a real audit-type environment."
Rogers, a partner at EY and a member of TCNJ Foundation board, appreciates the importance of giving and mobilized other TCNJ alums from EY to give back to their alma mater. EY sweetened the deal through the company's matching gifts program.
Accounting students enrolled in Audit Theory and Practice will specifically benefit from the lab each semester, working on case studies and audit simulations with real data. The room features web conferencing and meeting space that allow for flexible usage.
"The EY Audit Lab will familiarize students with the basic technical and practical aspects of the audit process," said Nouri.  "In turn, this preparation should enhance a public accounting firms' program by allowing them to concentrate on familiarizing new hires with firm-specific requirements rather than having to instruct them in the basics."
---
—Emily Dodd