The buzz inside The Atrium at Eickhoff reached new levels on Wednesday, February 19, as the School of Engineering's "Fueling the Future" luncheon transformed the always-lively campus dining hall into a carnival-like setting.
The themed lunch, which featured games, activities and festive decorations, was held to mark National Engineers Week and provided a colorful, fun-filled opportunity for TCNJ's engineering students to showcase their work and introduce engineering concepts to the Atrium's patrons.
With help from Sodexo, the student organizers assembled a menu that featured gourmet dishes with an international twist: many offerings honored the native countries of important historical figures in the field of engineering. Over at the 91.3 Wokery, for instance, they served Feta mashed potatoes and Kalamata Tapane in honor of Archimedes, while at Quimby's Kitchen, French favorites such as quiche Florentine and beef bourguignon were served in honor of Gustave Eiffel.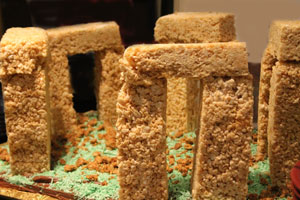 For the less adventurous there was an "All Night Coffee Bar" and ramen noodle station — "true staples" of the engineering student's diet, joked mechanical engineering major Andrew Specian '14. There was even an edible Stonehenge made from Rice Krispy treats. "It rocked!" quipped TCNJ staffer Melissa Lide after sampling the dessert.
At each table, K'nex construction toys were placed, allowing diners to build their own engineering wonders as they ate. And situated around the room were TCNJ engineering majors, on hand to present their own research and explain to visitors the importance of engineering in today's world.
TCNJ's student engineering clubs spent months organizing the event, getting support from the dean's office and Dining Services. It was well worth the effort, Specian said, because the luncheon provided a "unique opportunity to show students, visitors, and professors what engineering is and what TCNJ's engineering students have achieved in Armstrong Hall."
—Victoria Bartek '15