Today at its public meeting, the Board of Trustees approved The College of New Jersey's new seal. This visual representation of the College's identity honors its rich 159-year history, symbolizing the institution's evolution from one of the finest teacher preparatory schools to one of the best undergraduate public colleges in the nation.
"The design incorporates significant elements of our old Trenton State College shield, which was used from 1958 until the school changed its name to The College of New Jersey in 1996," said John P. Donohue, vice president for College Advancement. "This is appropriate given the fact that TCNJ is the extraordinary institution it is today because of everything—and everyone—that comprises its rich history."
Two goals were identified in the charge to design a new seal. The first, to create a distinctive mark that embodies the quality of the educational experience at TCNJ. The second, the strong desire to embrace the institution's past and carry it into the future.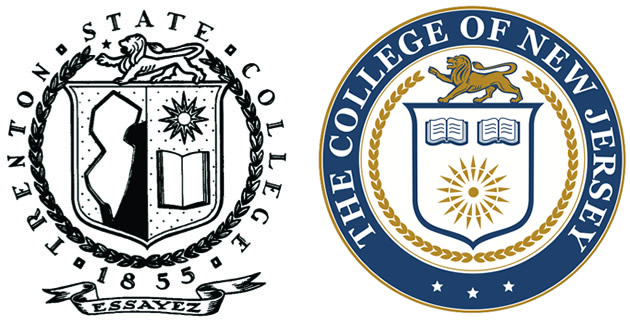 The new seal, which was developed over the course of the last year and shared with various groups in the TCNJ community, is a proud nod to the Trenton State seal and brings together many of the same elements in a contemporary yet regal design. It maintains the circular shape with the College's name and collegiate braiding wrapped around a center shield. While the Trenton State shield contained one book, the new seal contains two, representing the liberal arts and the professions, which are taught with equal depths of quality at TCNJ. Both shields contain suns and have a lion—the symbol of our school—perched atop.  While the TSC seal contained one star, the new seal contains three to represent New Jersey, the third state in the union.
"This bold and bright visual mark conveys and strengthens TCNJ's institutional identity, one that continues to be synonymous with the very highest of quality in education and a commitment to excellence," said Donohue. "It unites our current identity with that of our proud past."