If you were a '90s kid who watched TV after school, you might remember Henry Finnerty from the sitcom Grounded for Life. You may even remember wondering what happened to Henry, who vanished between the fourth and fifth season. The short answer is that Jake Burbage, the child actor playing Henry, gave up acting professionally. But you can catch him on campus this spring in the All College Theater production of Proof.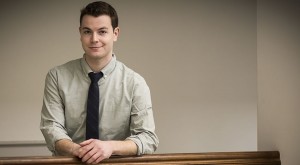 Burbage, 21, a first-year English major, started acting in commercials at age 5. "I attribute my interest in acting to Harrison Ford, who's always been my favorite actor and my hero. I loved Star Wars, Indiana Jones. Every day I would dress up as a different character," he says. "When I realized that dressing up and doing make believe could be a real job, I asked my parents if I could do that." They obliged and found him an agent.
He landed the voice role of Benny in Dora the Explorer and appeared on Hollywood Squares and Sex in the City. After landing the Grounded for Life gig he and his family, from Delran, N.J., rented an apartment part of the year in Studio City, Calif. But in 2004 they went home. "At that point I was being home-schooled, and my education was in jeopardy. We made the decision I'd go back to middle school. I was mature enough to see it was best for me."
He never really deserted the stage though, and acted (and sang) throughout high school. He also earned residuals from his professional career, which pay for college.
After high school Burbage took off time to ponder his future: "I was on the fence about college. I wasn't sure what I wanted to do." He worked some and went to auditions, but after a year applied to TCNJ. "I have a lot of family who have gone here and spoke highly of it. It was close to home, but far enough away so it wasn't right on top of home."
Professional acting is not his priority at this point, and he has no desire to study acting. "I'm here to get a degree. There are so many things I'm interested in besides acting. Like directing. And writing. It's hard for me to commit to one thing."
And yet stepping into a character still thrills. "For me, the most exciting thing is being someone else. My favorite part of being an actor is the work I do that the audience never sees – figuring out who the character is, his back story, his memories, how he walks, and holds his hands – the whole immersive experience of becoming a person entirely separate from myself."
---
—Mary Jo Patterson