Inside the College Art Gallery from now through April 17, visitors will encounter the work of 17 visual artists, numerous textile workers — and two highly dedicated curators.
It began in 2008 when Deborah Hutton, associate professor of art history, came across several videos from the Center for Contemporary Art in Afghanistan.
"I hadn't realized they were already making art there again after the end of the Taliban," she said. "I slowly began collecting artist names, readings and ideas for a class on Afghanistan's visual culture."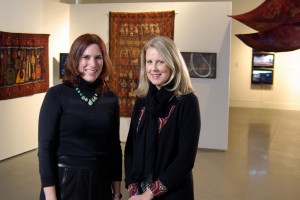 But a class was only half of her vision. Several years later, Hutton and Gallery Director Emily Croll began organizing an exhibition that would present contemporary Afghan art to American audiences.
"I'd boil the show down to two questions," Hutton said. "What has 35 years of war done to the visual culture of Afghanistan, and how do people respond to the trauma of war?"
Art Amongst War: Visual Culture in Afghanistan, 1979-2014 presents both somber realities and glimpses of brightness. A photography section includes images of Afghan insurgents and fallen U.S. soldiers as well as young women taking painting lessons and two giddy children riding a donkey. "Even in a war zone, life goes on," Hutton said. "We wanted to show that there's still beauty and happiness and humor."
The show posed numerous challenges for its curators, from language barriers and shipping logistics to Afghanistan's spotty Internet service. By creating one of the first exhibitions of its kind in the U.S., Croll and Hutton also had none of the usual reference points for guidance. "Often as a curator you see what's been done in the past and build from there," said Croll. "We had very little of that. This is a tremendously ambitious show."
Assistance came in the form of a $10,700 grant from the New Jersey Council for the Humanities and from Hutton's class last fall — also titled Art Amongst War — in which students wrote wall text panels and catalog essays for the exhibition.
"Everyone has their own ideas about Afghanistan," Hutton added, "but most often [their impressions] are negative and interchangeable with almost any war zone. Art is a great way for us to cross cultural boundaries and to see another country through its people's eyes."
For full information about programming related to Art Amongst War, please visit the Program page.
---
—Molly Petrilla