After graduating from The College of New Jersey in 2007 with philosophy degrees, identical twins Keith and Kenny Lucas parted ways, each headed to one of the nation's top law schools: Keith to Duke; Kenny to NYU.
But two years into their separate journeys toward legal careers, the brothers decided to change course and pursue a new adventure, together: standup comedy.
"I had to convince Keith to get into it, but it wasn't much convincing," Kenny said recently. "We have this belief that we perform better when we work together, so it's pretty easy to convince [Keith] to do things."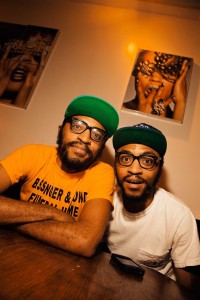 They set about refining their act in bars and clubs throughout New York City and New Jersey. It was rough at first, admitted Keith. "We didn't really have an identity. [We were] coming in with a totally different set of ideas, and they didn't really mesh well at the beginning. I'm sure it came off very incoherent. But we always talked about '90s stuff."
They honed their act quickly, and audiences soon took notice. So, too, did producers from Late Night with Jimmy Fallon who, after seeing the twins perform in a comedy showcase, booked them for an April 2012 appearance on the show. The brothers have been in demand ever since.
First, Comedy Central asked them to do a web series, The Super Late Morning Show. That was followed by an animated show for Fox: The Lucas Bros. Moving Co., which follows the brothers on fantastical adventures as they avoid moving stuff around Brooklyn, debuted earlier this year and has already been picked up for a second season.
The twins have several other projects on tap including a live-action pilot for Fox that is in the writing stages, a sketch-comedy show for TruTV, and roles in the movie 22 Jump Street, which is due in theaters this June.
They love being this busy, they said, adding that their long-term goal is to write movies or make a sitcom similar to those made by their "hero," Larry David (Seinfeld, Curb Your Enthusiasm).
But Kenny said he has another goal in mind. "Just work as much as possible, do as much of God's work as I can do and then get a house in North Carolina."
---
–Joel Keller