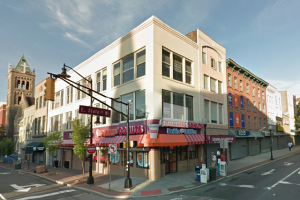 Some 80 years after leaving Trenton, The College of New Jersey is back. It has opened TrentonWorks, a downtown satellite envisioned as a center of learning as well as a stimulus for innovation and economic revitalization.
"It's a very cool space, where we can make our programs more accessible to our community partners and really broaden the menu TCNJ can offer students," said Patrick Donohue, assistant provost of community-engaged learning and partnerships.
TrentonWorks aims to involve one upper-level class within every TCNJ major. "We could do a project with criminology students, and they could walk to the federal courthouse, or one with history students who could walk to the Old Barracks. Political science students could walk to the State House," he said.
The site also plans to serve as an "incubator space" and multimedia design studio for local nonprofits and businesses, according to Donohue, who pushed for its creation.
Spread through two floors above a Dunkin' Donuts at 5 South Broad near State Street, TrentonWorks opened Feb. 7 with a screening of a documentary about former football pro Tony King aka Malik Farrakhan, head of security for the hip-hop group Public Enemy. Since then it's launched programming in the arts and humanities from 5:30 until 7:30 p.m. Monday through Thursday, in addition to a speakers' series and citizenship class.
The building is four miles from campus and accessible from Ewing by NJ Transit bus or a shuttle from the Student Center. It is on loan to TCNJ under a three-year agreement with the Trenton Downtown Association, one of the Bonner Center's 15 community partners. "There is a cadre of students who are thirsting for the energy and experience of being in the city, " Donohue said. "The reception we've gotten from them to date has been very, very enthusiastic."
Community members are just as stoked, said Toby Sanders, a grass-roots activist, pastor and former president of the Trenton school board. "What is going to change Trenton for the better are people and relationships. To transform Trenton through authentic relationships you have to move into the community," he said. "The truth is that a lot of institutions in this area have moved in the opposite direction. For TCNJ to put initiatives and people and resources in the heart of the city is both a courageous and very pragmatic move."
---
—Mary Jo Patterson