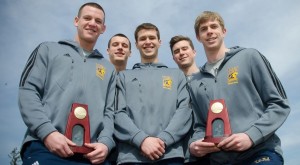 When four student-athletes from The College of New Jersey men's swimming and diving program captured the national title in the 200-freestyle relay, they accomplished a feat that was the first of its kind in program history. Four swimmers achieved the unthinkable and stood alone in greatness.
That is, until the Lions won a second title.
During a magical week at the 2014 NCAA Division III Swimming and Diving National Championships in Indianapolis, TCNJ claimed the 200-free relay and 400-free relay national titles. It propelled the Lions to a sixth-place finish overall, matching their highest placement ever at NCAAs.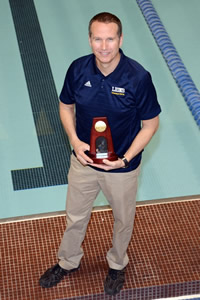 "We are always talking about 'believing' and being even better than you ever expected," said head coach Brian Bishop, who was named the 2014 NCAA Coach of the Year. "They did exactly that. After winning that first one, the mindset changed going into the 400-relay, because they truly believed."
On the second day of the championships, history was not on the side of seniors Philip Hawley (civil engineering) and Stephen Gibson (finance), junior transfer Brett Pedersen (communications studies) and sophomore Joseph Dunn (civil engineering). The four had competed in the 50-yard freestyle individual event the day before and each had finished outside the top 16. No 200-free relay team had ever won an NCAA championship (at any level) without having at least one team member place in the top 16 of the 50-free.
When Gibson touched the wall in a program record time of 1:20.47, history was made.
"What I felt when I touched the wall is very hard to explain," Gibson reflected. "There was so much energy and joy pulsing through my body. I was just so happy that we had won and that I'd brought it home for my teammates."
The magic repeated itself two days later when Pedersen, Dunn, Gibson and senior Stephen Tarnowski (political science) placed first in the 400-free relay.
"I must have had 200 phone calls and texts from our alums going absolutely nuts," noted Bishop. "The relay titles are a reflection of what our program has always been about. Each of them swam lifetime bests because they were swimming for each other."
---
–Mark Gola