Maybe you have a paper to write. Or too much work. Whatever the reason, you feel like skipping the gym.
Don't. You might be able to gain cardio benefits and strength in much less time than you think. A team of researchers at TCNJ's Human Performance Lab is using test subjects and science to figure out the most efficient way of getting thinner and stronger. In a world where everyone seems health conscious, yet pressed for time, there's good reason to figure this out.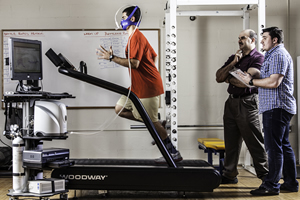 Students Megan Flynn, Matthew Wells and Charles Smith are collaborating with health and exercise science professors Nicholas Ratamess and Jie Kang on a study to measure the effectiveness of a high-intensity, quickie workout combining 10 minutes of running and 10 minutes of weight training. Circuit training, which combines grueling bouts of exercise with short rest intervals, is all the rage. But "no one knows how effective it is," says Kang, an expert in exercise metabolism.
The research originated in 2013 as a MUSE (Mentored Undergraduate Summer Experience) project for Wells and Flynn, who compared the physiological benefits of a standard aerobic training program with a combined aerobic-resistance training program. Their subjects spent six weeks training in the lab, after which the students evaluated changes in their maximal oxygen uptake (how much blood the heart can pump), exercise economy, body composition and muscular strength. Last fall the MUSE study was expanded to include more subjects, and Kang and Smith joined the collaboration.
While their subjects worked out, Wells and Flynn recorded how much metabolic energy they expended. "We haven't analyzed all the data, but it will tell us whether 20 minutes of running, versus 20 minutes of combined running and weight training, burns more calories," Ratamess says. The group expects to publish its results in The Journal of Strength and Conditioning Research. Ratamess will be the principal author, but initial drafts and requests for feedback will be sent to every member of the team.
"Working with a professor, on a very even playing field, is so different from sitting in a classroom," says Wells. "Obviously he knows way more than we do, but we work alongside him the entire way. He makes sure we're not just learning, but flying the whole way."
---
—Mary Jo Patterson