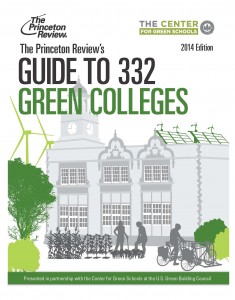 The College of New Jersey remains a member of the Princeton Review's Guide to 322 Green Colleges, a 215-page handbook recognizing environmentally-friendly campuses in honor of Earth Day. Created by surveying hundreds of United States and Canadian colleges, the guide highlights schools that are taking action to cut carbon emissions, using data on the each school's course offerings, activities, and campus involvement in order to measure its commitment to the environmental sustainability.
TCNJ sets itself apart in its sheer determination to actively cut its own carbon emissions. Since creating the President's Climate Commitment Committee (PC3) in 2007, it has been working extensively to become carbon neutral by 2040, through the implantation of auditing programs and various green initiatives. Following recommendations from the Carbon Fund ( http://www.carbonfund.org/), TCNJ supports renewable energy installations, funds energy efficiency projects, and has been working to reforest areas surrounding TCNJ.
On campus, The College offers environmental classes, research opportunities, and student organizations, placing students at the forefront of environmental activism. Organizations such as Water Watch, Roots and Shoots, and the Bonner Center turn students to environment advocates, teaching them how to live greenly as well as providing opportunities to volunteer in environmental sustainability projects and activities. TCNJ also offers an Environmental Studies concentration and numerous environment- focused classes in scientific, sociological, historical, and even literary disciplines. In addition, the College has implemented Sustainability Ambassadors, students who act as liaisons between the general student body and PC3. These students aim to get the whole campus involved in carbon emissions reduction by implementing programs such as carpooling and campus gardening initiatives. The Guide to 322 Green Colleges: 2014 Edition describes TCNJ's exemplary carbon reduction efforts as "impressive sustainable action," naming TCNJ a "green leader."
Published April 17 in celebration of Earth Day on April 22, Guide to 322 Green Colleges: 2014 Edition is the only free comprehensive resource of its kind, and includes facts and stats on school demographics, admission, and financial aid. The guide can be downloaded at www.princetonreview.com/green-guide and www.centerforgreenschools.org/greenguide.