The six TCNJ students who traveled to Russia on a grant-funded service-learning trip last month brought back more than just stamped passports. They returned with a greater understanding and appreciation of Russian people and culture.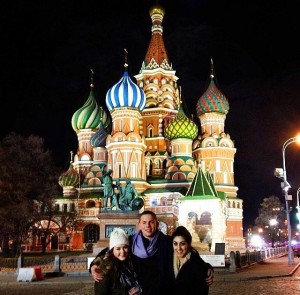 Kyriaki Christodoulou, Lia Lumauig, Joanna Peluso, Michael Schiumo, Skyeler Sudia and Katie Wertheimer spent their spring break teaching English to 2nd through 11th graders at a school in Vladimir, Russia. While abroad, the students had the opportunity to absorb the region's language and culture by exploring Vladimir, a town located 115 miles northeast of Moscow, as well as the Russian capital itself.
The TCNJ students' presence in Vladimir caught the attention of a Russian news station, which sent a camera crew to interview the students about their experiences volunteering in the school. They also filmed the students playing "lapta" — a Russian game played with a bat and balls — with their Russian pupils. (Click here to watch the news story, which was broadcast in Russian.)
The trip was funded through a U.S. Department of Education grant program created to internationalize TCNJ's history secondary education experience, according to Mike Marino, assistant professor of history at TCNJ.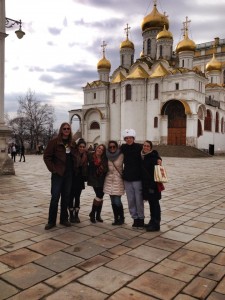 Despite visiting during a period of heated geopolitical tensions between Russia and the U.S., the TCNJ students say they were met with curiosity rather than animosity by their Russian hosts.
"The first night in Moscow I got an email from the U.S. State Department that there was a travel advisory, so I was worried, but no one treated us weirdly or negatively," said Wertheimer. Added Schiumo: "People were curious about our opinions, but I don't feel like they were targeting us in any way."
Schiumo plans to head back to Moscow in August on a Boren Scholarship, and Peluso and Wertheimer hope to return to Russia sometime in the future. All three say they are still in contact with the host families they met while in Russia.
"When you are in America you hear a lot of Russian stereotypes," Peluso explained.  "And for me, all of them were broken on this trip. I've never met such sweet people in my life."
—Vicki Bartek '14