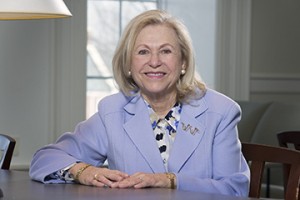 TCNJ has long been known for its student-faculty collaboration and the sophisticated research and original scholarship it produces. This brand of engaged learning at the College found a new champion this week in alumna Barbara Meyers Pelson '59, who has made a $1 million gift to endow The Barbara Meyers Pelson ('59) Chair in Faculty-Student Engagement.
This position, the first of its kind at TCNJ, will recognize and support the work of tenured full professors who have distinguished records of faculty-student collaborative scholarship and are exemplars of the teacher-scholar model.
"Barbara's gift is such an extraordinary example of generosity and commitment to the College," said TCNJ President R. Barbara Gitenstein. "It is fitting and deeply gratifying that the first-ever endowed professorship at TCNJ bears the name of Barbara Meyers Pelson, a distinguished alumna and great friend and supporter of all that we hold dear at the College.
Pelson, a member of the College's Foundation Board and former member of the College's Board of Trustees, studied education and music and spent many years as a schoolteacher. She and her late husband, Victor, talked together at great length about giving to the College.
"We both felt very indebted to public education," she said. "Some people talk about giving back, but I feel that I'm giving a gift that goes onward."
Pelson's gift will enhance and expand the first-rate mentored research experiences available to TCNJ students. Through deep and meaningful engagement with faculty members, students become partners in their own education rather than merely consumers of content. The establishment of this chair reinforces that faculty-student engagement is a signature part of the TCNJ experience.
Students who work closely with faculty not only earn better grades in their engagement-centric classes, but also acquire learning skills that improve their experience in other classes. They graduate with greater frequency and are better prepared for the world that lies beyond college.
Based on the endowment, the Barbara Meyers Pelson ('59) Chair will support the creation of a course and curriculum built around faculty-student engagement. Funds may be allotted to the creation of materials, course-related research, professional development, faculty and student travel to professional conferences and the convening of a scholarly conference at TCNJ. Funds will also support an annual lecture, at which the current Barbara Meyers Pelson ('59) Chair will address the campus community and report on the year's activities.
The application process for the inaugural chair will begin in the 2014-2015 academic year.