Greg Fitzgerald doesn't own a smartphone, yet his innovative idea to charge them sans cables and outlets has the potential to hit it big.
Fitzgerald, a senior finance major, along with senior accounting major Steven Leming and junior engineering majors Eric Blow and Luke Capritti, comprise the executive team behind SolarKick, a budding business looking to compete with Eton, SnowLizard and Otterbox in the market for high-end cell phone cases.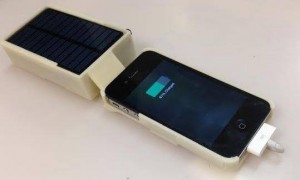 "SolarKick is thinking big—they want to be breaking $6 million in three years," said Christopher Jones '90, co-founder and CFO of Durante Rentals and a competition judge. "There are a lot of details between pre-revenue and being a player in the market, but figuring that out is the fun part of a start-up."
The students took home the $16,500 top prize in TCNJ's third annual Mayo Business Plan Competition for their working prototype of a renewable energy powered cell phone case and detailed plan to turn a profit.
SolarKick's green energy charging materials are based on piezoelectricity, the electric charge that accumulates on certain solid materials in response to applied mechanical stress. Put simply: move the case and harness natural power. Twenty minutes of walking provides roughly two-and-a-half minutes of charge.
As befitting the company's name, SolarKick's case also includes a provisionally patented hinged solar panel that generates five minutes of charge for every 25 minutes of sunlight collected.
What's next for this freshly minted LLC? "We're going to keep improving on the design of the case and make it smaller, more efficient, and powerful," said Fitzgerald. "My friend in the Navy asked when consumers would be able to purchase it. When he's outside doing training there are no outlets, so he could benefit from a product like this."
Steven Schreiner, dean of TCNJ's School of Engineering, is pleased with the valuable experience students are gaining through this opportunity to bring technological ideas to the marketplace.
"I think SolarKick's working prototype was an important factor in their win," he said. "It's crystal clear to me that they understand the market and how that market drives their technical design choices."
Follow SolarKick on Facebook at www.facebook.com/solarkick.
---
—Emily W. Dodd