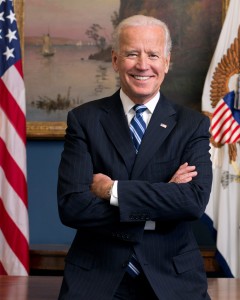 TCNJ President R. Barbara Gitenstein was invited to Washington, D.C., last week to join Vice President Joe Biden as he unveiled the findings from the first report of the White House Task Force to Protect Students from Sexual Assault. She was one of only five college presidents at the event.
"The White House has raised the profile of this important conversation and is challenging schools to do more," said Gitenstein. "The report outlines a number of strategies for tackling sexual assault, many of which complement the work TCNJ has been doing on this issue over the last decade, others of which will improve our response to this serious problem."
The White House task force identified and presented four key areas of focus: using campus climate surveys to identify the extent of the problem; engaging men as allies in the prevention of sexual assault; effectively responding when a student is sexually assaulted; and strengthening the federal government's enforcement efforts while providing greater transparency.
In 2004, following the work of a campus Sexual Assault Task Force, TCNJ established the Office of Anti-Violence Initiatives (OAVI), which has been instrumental in creating a number of initiatives aimed at reducing sexual assault. These include Student Anti-Violence Education (SAVE) Peer Educators, a group of trained student mentors who provide evidence-informed programming to provide students with healthy relationship skills, and the Green Dot Campaign, a bystander intervention program that empowers students to become pro-social bystanders.
Gitenstein believes the College's efforts to date have begun to shift the culture on campus—a key goal of the White House task force.
"Last week I attended TCNJ's Student Leadership Awards and two of the organizations were recognized for their programming around sexual assault," said Gitenstein. "When the groups took the stage to accept their awards, a large percentage of them were men. Involvement of men in this issue on our campus is so important because that is how we begin changing the culture."