The College of New Jersey Alumni Association bestowed its highest honors on three graduates for exceptional leadership and service in their respective fields.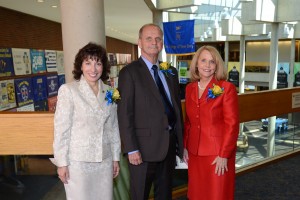 Major General Maria Falca-Dodson '75 received the Alumni Citation Award, Elizabeth Sheridan '79 received the Humanitarian Award, and former TCNJ wrestling Head Coach David Icenhower '84 received the Distinguished Service Award at the Alumni Leadership Award ceremony, held April 26 as part of Reunion Weekend.
A TCNJ nursing graduate and decorated Air Force Veteran, Falca-Dodson was recognized for her work in various healthcare groups throughout New Jersey and Philadelphia, as well as for her service in the New Jersey Air National Guard. Throughout both her military and civilian work, Falca-Dodson has illustrated a fervent dedication to improving health care facilities, and has become an advocate for the expansion and improvement of healthcare and medical resources for veterans. She has also remained connected with her alma mater, serving as a member of the Alumni Association and advocating for the health and wellbeing of student veterans.
Sheridan, also a nursing graduate, has enjoyed a successful career in hospital administration. As the chief operating officer and chief nursing officer of Inspira Medical Center in Vineland, she has created a hospital focused on patient-centered care by integrating the ideas and wishes of her nursing staff into the center's design. Under her leadership, Inspira Medical Center has earned "Magnet Designation" from the American Nurses Credentialing Center and all four of its intensive care units have received the American Association of Critical Care Nurses' Beacon Award for Excellence.
Icenhower, who retired from TCNJ in 2011, coached wrestling at the College for 35 years. During that time he set an exemplary standard for Lions sports, recording a record 535 wins, six undefeated seasons, and five national championship victories. Named MET Coach of the year 14 times and Division III Coach of the year twice, Icenhower produced 129 All-Americans, making him one of only four coaches in all NCAA divisions that have coached over 100 All-Americans. He is also one of only four coaches in all divisions to surpass 500 wins. His success as a coach led to his induction into the NWCA Division III Hall of Fame in 1999.
—Victoria Bartek '15