TCNJ students Michael Schiumo and Martín Crosby-Arreaza have received Boren Scholarships, allowing them to spend the 2014-15 academic year studying abroad.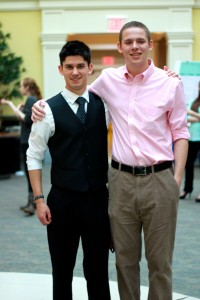 The Boren Scholarship is a competitive award funded by the federal government and given to students with serious interest in areas of the world that are underrepresented in study abroad. In exchange, the students agree to work for the federal government for a year post graduation, serving a paid full-time position in the Department of State, Department of Defense or another federal office with an interest in national security.
Schiumo, a Russian studies and finance major, plans to spend this summer in Kazakhstan and his junior year in Moscow. This spring he participated in a weeklong service trip to Vladimir and Moscow and will be returning to further enrich his study of Russian language and culture. Schiumo was mentored by Erica Kalinowski, coordinator of student services in the School of Business, in applying for this grant.
Crosby-Arreaza, an international studies major, will study in Tajikistan, spending his fall semester at the American Council's outpost in Dushanbe as part of the Eurasian Regional Languages Program. He plans to spend the spring 2015 semester at the Technological University of Tajikistan, a TCNJ partner institution, studying Persian language. Crosby-Arreaza accompanied Professor Jo-Ann Gross to Uzbekistan and Tajikistan last year as a part of the Silk Road program and was mentored by Professor Gross in applying for this grant. Jon Stauff, director of TCNJ's Center for Global Engagement, in writing their applications, mentored both students.
Benjamin Rifkin, dean of the School of Humanities and Social Sciences, congratulates both awardees for their success in receiving the Boren Scholarship. "This is of course great news for the students but also great news for TCNJ," he said. "Knowing both these young men, I know that they will be great role models and terrific spokespersons for TCNJ."
—Victoria Bartek '15