At a Governor Chris Christie press conference at Mercer County College last week, The College of New Jersey was recognized for being one of the founding institutions of a major prisoner education initiative.
New Jersey Scholarship and Transformative Education in Prisons, or NJ-STEP, is a coalition of colleges and universities working to create an undergraduate degree program for incarcerated men and women. Rutgers Newark formed NJ-STEP in 2012 after pulling together a handful of colleges—like TCNJ—that had extensive experience in the field of prisoner education. The others included Mercer County Community College, Rutgers-New Brunswick and Drew University.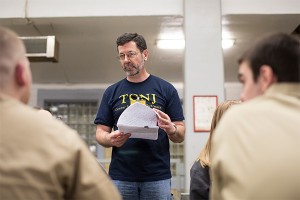 "Tutoring and teaching at the Wagner facility was the most impactful and meaningful experience of my undergraduate career," said TCNJ alumnae Bridget Mcmanus, who now teaches 9th grade at Trenton Central High School. "I learned more about myself and, in the process, gained a firmer grasp on the lessons I learned in my own education classes.  I still volunteer once a week with the Bonner Scholars and other volunteers."
TCNJ delivers eight college credit classes annually to men and women at three state facilities in Northern Burlington and Hunterdon counties. These are considered community-engaged learning (CEL) courses when TCNJ students attend lectures with their incarcerated counterparts—and provide them with assistance.
Students, staff and faculty from the Bonner Institute as well as the Institute for Prison Outreach (IPOE) and Education organize tutoring and enrichment sessions for the incarcerated students in NJ STEP. They do the same for men and women in other Department of Corrections educational programs.
Last year, the two TCNJ institutes, which are housed within the Center for Community Engaged Learning and Research, expanded to the Mercer County Correction Center in Hopewell. Approximately 60 students participated in CEL and other volunteer programs at Mercer County Correction Center during this recent academic year.
TCNJ started mobilizing professors, staff and students to learn and serve at correctional facilities through the Bonner Institute and IPOE in 2008.
For more information, contact Patrick Donohue, Assistant Provost, Community Engaged Learning Programs and Partnerships or Celia Chazelle, co-director of the Institute for Prison Outreach and Education.