Reuters calls him the "new go-to adviser for some of Wall Street's biggest players." NBC News describes an article he coauthored, which details how to tell a pyramid scheme from a legitimate retailer, as the "landmark paper" in the field. Bloomberg TV brings him into the studio to explain the murky world behind sensational financial headlines.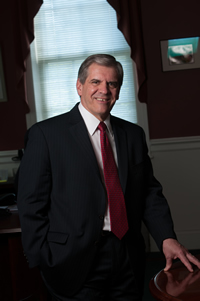 That's what happens when you own an academic niche. For 20 years, Bill Keep, dean of the College's School of Business, has been the authoritative source on multilevel marketing, a popular but controversial brand of selling. But since December 2012, when a New York hedge fund executive labeled the multilevel marketer Herbalife "a pyramid scheme" and ignited ongoing news coverage, Keep has emerged as the leading commentator on the story.
"Academics are supposed to approach social problems. We are evidence-based. I've always tried to do that, and I've been trying to do that here," says Keep, whose insight has also been sought by analysts and investors on both sides of the Herbalife debate. Keep charges no fee for his advisement services, and offers no opinion as to whether Herbalife is a pyramid scheme. (He has an opinion; he's just not sharing it. "The final determination will be made by a court," says Keep.)
Earlier this year the Federal Trade Commission confirmed it's investigating Herbalife, a publicly held company with $4 billion in revenue. Herbalife is best known for diet shakes, yet it sells more than a product. It also extends a "business opportunity" to those who join its sales force. They are invited not only to make personal sales, but also to earn money by recruiting other "distributors" and sharing their commissions. Herbalife critics claim most distributors lose money.
Keep's expertise dates to 1985, when he was an assistant professor at the University of Kentucky and the U.S. Department of Justice asked for help prosecuting Gold Unlimited, an alleged pyramid scheme operating in western Kentucky. Later he consulted with the U.S. Securities and Exchange Commission on another alleged scheme.
Billions are riding on the Herbalife investigation. William Ackman, the hedge fund manager at war with the company, has bet $1 billion on its collapse by short-selling Herbalife stock. Other portfolio managers have taken the opposite position.
That drama, says Keep, is a distraction. What matters is tightening federal regulation of the industry. "Here's a publicly owned company, yet you can't tell from the public information it files what the underlying business model is. To say it's an under-regulated industry is an understatement."
---
—Mary Jo Patterson