When Holman Hall was demolished earlier this year to make way for a new STEM complex, a small tribe of faculty members made certain that memories of its namesake lived on.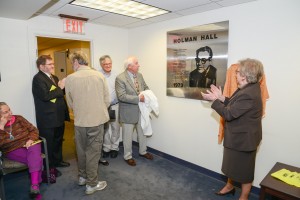 Opened in 1973 and named for Alfred P. Holman, a beloved professor of English who chaired the department for more than 20 years, the building housed the humanities disciplines. Years later when the building became home to art and computer science, a commemorative plaque bearing Holman's likeness remained in the building.
Now, that plaque will live on in the English Department. An intimate gathering of current and emeriti English faculty members—along with special guest David Holman, Alfred's son—met with reverence for Alfred as they shared fond memories of the man who shaped so much of what the department is today.
"We among the current faculty think of ourselves as the teaching 'grandchildren' of Professor Holman," said Glenn Steinberg, current chair of the English Department.
"It's an interesting chain of events," said Frank Erath, emeritus faculty and former chair of the department. "He hired [all of us]. And of course we hired all of the people teaching in the English department now. So there is an ancestral connection."
The plaque, which bears a likeness of the man himself etched by professor emeritus of art Norval Kern, now lives in the entrance to the English Department office in Bliss Hall, but will continue to follow the department wherever they may go in the future.
Erath continued, "Dr. Holman is where he belongs, with all of us."