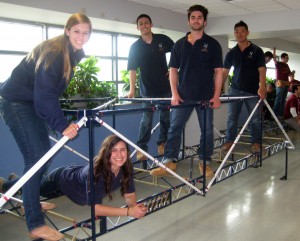 A steel bridge designed, fabricated and constructed by a team of students from the School of Engineering placed second in a regional competition held last month at NJIT. The strength of the showing earned the College an invitation to the finals of the National Student Steel Bridge Competition, a first for its 10-year-old civil engineering program.
The competition, which is sponsored by the American Society of Civil Engineers (ASCE) and the American Institute of Steel Construction, challenges students to design a bridge to certain specifications. These include maximum span, maximum height, load placement and clearances.
While the bridge's purpose is hypothetical, the benefits of building it are real, said adviser Nabil Al-Omaishi, associate professor of civil engineering.
"It's a very good experience for our students in which they go through the entire process of managing a project—from design, to fabrication, to construction, to managing resources like time and money," he said. "Whether it is a big bridge or a small one, there are a lot of common design aspects.  Everything is done according to certain industrial standards."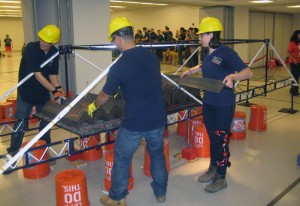 For the regionals, the team gathered at NJIT in Newark to assemble and test their bridge under the watchful eyes of competition judges and against teams from top schools like NYU, Columbia and NJIT. Each was judged based on a variety of factors including construction cost and speed. Initially the TCNJ teammates were worried.
"We [had] a relatively high construction time of 34 minutes," said team leader Aaron Chan. "However, we were able to load our bridge, which we started to realize was a difficult stage to reach." Many competitor bridges failed under loading or were disqualified for other reasons, he said. TCNJ ultimately placed second behind NJIT.
Chan and his teammates went into the competition determined to not disappoint their school, but were surprised to learn their bridge was carrying them into the finals.
"None of us expected the nationals qualification," he said, noting that several teammates had conflicting plans for the weekend of the final round, which was held over Memorial Day weekend in Akron, OH. For this and other reasons, they made the difficult decision to bow out.
Chan says that while he and his teammates are "bummed," they are "happy and relieved that we met all the goals we set for ourselves and even exceeded some."
What's Next for the Team Members?
The teammates, who graduated from TCNJ this month, have had jobs or graduate school lined up since early in the spring semester. Aaron Chan will be joining the civil highway department of Parsons Brinckerhoff in Lawrenceville, NJ. Mike Soriano will be working in a similar capacity in the New York office of HDR. Alyssa Hartigan, whose essay on the responsibility civil engineers bear in planning for natural disasters took first place in a related ASCE technical paper competition, will be joining Whiting-Turner Contracting in Bridgewater, NJ. Max Schisler will be working for Moretrench, a nationally renowned firm specializing in tunneling and underground work. Stephanie Rindosh will head to Villanova in the fall to pursue a masters in civil engineering.