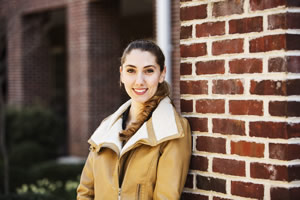 Jordan Kohn knew she wanted a career in which she could contribute to society. A health communication internship in South Africa showed her how.
Last summer, Kohn traveled to South Africa to study how the government there uses "entertainment education" to improve citizens' health. The country has the highest rate of HIV infection in the world, yet its citizens have limited knowledge of how the disease is transmitted. To combat this, the South African government embeds messages urging safe sexual behavior in popular TV shows and other media.
During her internship, Kohn presented at the University of KwaZulu-Natal in Durban, visited a high school in a formerly apartheid township, and networked with South African university students and staff from US-funded non-governmental aid organizations.
"Ultimately, it was my work over there that made me think about global health," says Kohn. After returning to the States, she decided to pursue a career in public health, and applied to grad school. This fall, Kohn, a 2014 communication studies graduate, will enter the Johns Hopkins Bloomberg School of Public Health in Baltimore on a two-year master's track in the Department of Health, Behavior and Society. Her program emphasizes behavioral sciences principles and communication strategies for promoting public health. "The first year will be course work," says Kohn. "The second will be a six-month field placement of my choice—anywhere in the world."
The work she did during her South Africa internships was "exciting" she says, but most important, it showed her that "health communication really can change the world."
"It's not just working on a public service announcement about tobacco use. It's so much greater, but you can only understand it if you go somewhere and see it firsthand," she says.
Kohn, a creative writing minor whose interests once leaned toward the literary, credits Professor John Pollock, who developed and led the South Africa internship, with igniting her interest in communication studies. Under his supervision, she undertook an independent study project on international newspaper coverage of child labor. That led to the two collaborating on a paper, which will be published this July in a special human rights-focused issue of the Atlantic Journal of Communication. The level of scholarship required for the work was "very rigorous," says Pollock. "It really prepared her for graduate school."
---
—Mary Jo Patterson