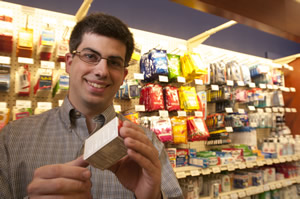 Tim Pfenninger came to TCNJ as a business student and excelled, but a sophomore-year internship in big pharma pulled him in an intriguing new direction, prompting him to undertake his own study of drug recall scandals at the company where he worked. Now, the May 2014 finance graduate is headed to one the nation's top law schools this fall.
The story starts in 2012, when Pfenninger landed a full-time internship in the new products management group at Johnson & Johnson, the consumer healthcare giant. At the time J&J had already announced a series of recalls—many involving bad Tylenol—and was a defendant in a consent decree for failing to comply with good manufacturing practices.
"I was working on the frontlines. I got to thinking about the way drug companies make production decisions, and wondered if anyone was really watching the process on behalf of shareholders. Then I started thinking about quality-control issues, which became an independent study project," he says.
Pfenninger asked TCNJ business professor and lawyer Susanna Monseau to collaborate on a field research case study. Professor Nancy Lasher, also a lawyer, joined the team to add her expertise in corporate government. Tim's role was to collect every public document relating to the recalls. He listened to Congressional testimony, hunted down elusive legal records, and immersed himself in the Food and Drug Administration's regulatory practices. When drug companies seek federal approval to sell a new product, they perform their own safety tests and send results to the FDA. The FDA monitors product performance only after a drug is on the market and the agency is notified there may be something wrong with it.
"Tim was a really good detective," says Lasher. "It was really a piece of investigative work."
Pfenninger loved it. "I learned so much about how consumer protection agencies work at the federal level. It's a shame. People go to the store thinking products are safe, that the companies are watching, and being honest, and the product is ready to be purchased."
The trio presented their findings last summer at the annual conference of the Academy of Legal Studies in Business in Boston. They also authored a scholarly article, "A Stealth Drug Recall: Who Protects Consumers and Shareholders?" that has been conditionally accepted for publication next year.
Another outcome: Pfennigner decided along the way to attend law school after graduating. He applied to and was accepted by five schools, and heads to the University of Pennsylvania Law School this fall.
"I wanted to do something other than go on and be a banker. I was very good at what I was doing, but I found putting pen to paper after hours really rewarding. I wanted something more. Studying law has given me that outlet," says Pfenninger.
---
—Mary Jo Patterson