A tutor for Nepali refugees. A product risk manager for a major national insurance firm. A published researcher. A member of the University of Notre Dame marching band.
These individuals are among the first to be accepted into The College of New Jersey's inaugural cohort of Woodrow Wilson New Jersey Teaching Fellows, a highly competitive program that recruits both recent graduates and career changers with strong backgrounds in science, technology, engineering, and math—the STEM fields—and prepares them specifically to teach in high-need secondary schools.
Governor Chris Christie announced the Fellows today at the Statehouse in Trenton.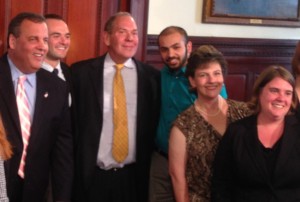 "With today's announcement, we are reaffirming our commitment to investing in teacher talent with a new pipeline for recruiting highly qualified teaching candidates and training them so they can generate the greatest positive learning outcomes for our children," said Governor Christie. "By preparing these Fellows to be top-quality educators, we will be helping more than 15,000 students to contribute and thrive in a knowledge-based, global, digital economy and workforce."
Eleven students are attending the program at TCNJ, each receiving $30,000 to complete the specially designed master's degree program based on a yearlong classroom experience. In return, fellows commit to teach for three years—with ongoing mentoring—in the urban and rural New Jersey schools that most need strong STEM teachers. The schools that benefit from these to-be teachers can hardly wait to get them through their doors.
"I have been working with our partner districts (Ewing, Trenton, New Brunswick, Burlington City) to find strong STEM teachers to mentor the Fellows next year," said Cathy Liebars, associate professor of mathematics and statistics. "We have twice as many cooperating teachers who are interested in mentoring a student than we do Fellows in the program!"
New Jersey is one of five states now participating in the Woodrow Wilson Teaching Fellowships, which named its first Fellows in 2009 in Indiana. Other states hosting the program include Michigan, Ohio, and Georgia. Other New Jersey institutions participating include Montclair State University, Rowan University, Rutgers University—Camden, and William Paterson University.