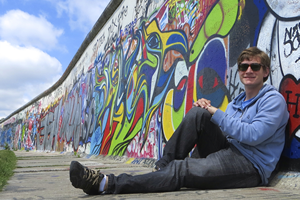 Matt Knoth '14 made the world his classroom. Three trips abroad—a Semester at Sea voyage to Central America and the Caribbean, a semester in Buenos Aires, Argentina, and another semester in Leipzig, Germany—and training trips to Aruba with the swim team helped develop his global perspective. Now, this intrepid traveler is about to set out on another foreign adventure.
Beginning this fall, he'll spend a year living and teaching in Austria thanks to a US Teaching Assistantship through the Austrian-American Educational Commission, which manages the Fulbright Program in Austria. There, he'll teach English at two different secondary schools in Linz, Austria's third largest city, which is about 18 miles south of the Czech border.
"I'll be working with advanced students, helping them to refine their language skills," he said. He'll also be the in-house American culture, offering conversation practice and cultural lessons.
"The rest of the world does a really good job at coming to see us, but I think we need to work on going out to see everybody else," said the May 2014 grad. "The program is meant to bring a native experience to them [in Austria], because not everyone can go abroad."
While Knoth, a newly minted European citizen, was able to spend plenty of time abroad, he also realizes the impact that foreign guests can make on the locals.
"I think I've had as much of an international experience on campus as I have had abroad," he said of his experience in TCNJ's International House, a living-learning community of TCNJ students and international students. In the "I–House," American students help international students adjust while both groups learn about the other's cultures through workshops, activities and trips.
"It's a unique give-and-take where you learn about other cultures while reflecting on your own," he said. "The thing that I love about the International House is that it doesn't end when the semester is over." Knoth has kept in touch with several of his foreign friends through social media and Skype, and they continue to visit with each other when they travel abroad.
Read about his previous adventures and catch up with his next ones on his blog: mattknoth.blogspot.com
---
—Emily W. Dodd