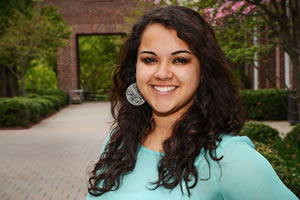 In her new role as a global data analyst for Bloomberg L.P., Urvashi Banerjea helps extract, analyze and deliver real-time business data to investors around the world. She loves the work, and feels fortunate to have landed with the company. But don't be surprised if you one day read about this 2014 grad in connection to another organization that's headquartered in New York City.
A political science and international studies double major, Banerjea interned in congressional and state legislative offices and served as a delegate to the 2012 Democratic National Convention while an undergrad. Her interests in public policy work and social justice led to a semester studying immigration, equality and human rights issues in Bologna, Italy. There, she heard something that caught her by surprise: Bengali, being spoken in the streets of the Northern Italian city. It's a discovery that has "shaped my life path ever since," she says.
"I was surprised to find so many immigrants from Bangladesh living in Bologna; it fascinated me," says Banerjea, whose own family immigrated to the US from Calcutta when she was five years old. "It was mostly migrants working lower-level jobs that I was hearing, and I wanted to know what had made them come there." That curiosity launched an independent research project in which she studied Bologna's minority groups. The fieldwork she did while abroad eventually helped shape her senior thesis.
In a separate project she undertook while at TCNJ, Banerjea examined how geography affects poverty. "Growing up in India, I remember being next to slums a lot. I was curious as to what perpetuates their growth. Geography? The land? Government policies?" She presented her findings from that work at the American Association of Geographers convention in Los Angeles in 2013.
Those projects, as well as witnessing firsthand the disparate opportunities immigrants face in other countries, have fueled an interest to one day work in refugee law and global migration policy, she says. "I'm an immigrant, so I often question what has made my experience so beneficial, and why my immigrant family has been so successful in the states."
Her "dream job" is to eventually work for the United Nations High Commissioner for Refugees. "That's the ultimate goal," she says—then adds playfully, yet earnestly: "that, or become Secretary of State, whichever comes first."
---
—Tony Marchetti