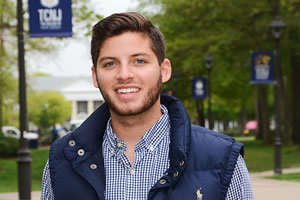 Many graduates like to fit in one last hurrah post graduation, but Aaron Feldman wasted no time launching his career last month with a developmental marketing position at Ralph Lauren Fragrances – L'Oréal Luxe in New York City. He discovered a love for luxury marketing during a summer-long internship with the company. "I was immersed in the product," says Feldman, "and colleagues played a huge role in my marketing development."
A psychology major with a minor in marketing, the Parsippany native attributes his participation in TCNJ's Student Ambassador program and a junior-year, study-abroad experience at Oxford University with preparing him for his career. He thrived as a Student Ambassador, mentoring students; marketing the college; and building leadership, speaking and interviewing skills that have served him well.
From Feldman's perspective, the college made the study-abroad experience accessible. "Studying at Oxford was transformational, and created a thirst for knowledge I'd never experienced before," he says. Working under a well-known global marketing expert, he learned "how England and Europe market products differently from the United States, so I am well equipped to work for L'Oréal."
A Merit Scholar who graduated cum laude, Feldman also completed an internship at Resound Marketing in Princeton during his spring 2012 semester and worked as an operations coordinator at Teach for America for a summer. He played TCNJ men's club soccer for four years and was a member of Phi Kappa Psi fraternity, for which he headed alumni relations and membership recruitment efforts and served on the executive board.
For Feldman, the college's small classes and faculty/student relationships inspired a more complete learning experience. "Personal interactions with faculty, such as hearing the marketing experiences of [business professor] Karen Becker, helped clarify what I wanted to do," he explains.
"I came to know [psychology professor] Jason Dahling when I worked in his research lab my sophomore year. He helped me with my résumé and cover letters and wrote letters of recommendations even when my interest moved from psychology to marketing."
Feldman plans to build a career in developmental luxury marketing because he enjoys creating the concept behind a product. His goal is to "one day oversee all creative and developmental aspects of an iconic brand like Ralph Lauren."
---
—Susan Cousins Breen