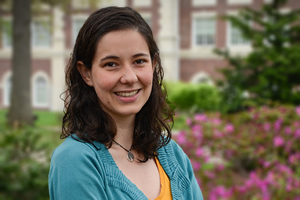 As an undergrad, Anne-Sophie Gerald doubled majored in Spanish and international studies because she's fascinated by the intersection of culture, history and language. She focused her studies on Latin America because it's a region of the world she felt she should know more about. That led to a semester in Buenos Aires, where she fell in love with the tango. It so fascinated her that she made it the topic of her senior thesis, tracing how tango music and lyrics have reflected changes in Argentina's social and political conditions throughout the years. And yes, she even learned to dance it.
All of which is to say that Gerald is someone who follows her passions— wherever they lead. Last month, they led the 2014 graduate to Parramos, Guatemala, where as a Princeton in Latin America Fellow she'll spend the next year teaching English and promoting literacy in a rural, hillside town she hadn't heard of just a few months ago.
Gerald was one of only 50 recent college graduates from across the country selected for a PiLA Fellowship this year. The organization, which was created by Princeton University faculty, alumni and students, places young adults with non-governmental organizations and community service groups throughout Latin America. Gerald got the urge to undertake such a post-grad experience last spring while volunteering with the Latin American Legal Defense & Education Fund. "I wanted to see where the people I was tutoring came from, and what they had left behind," she says.
The rural Guatemalan town in which she's now living is far different than the cosmopolitan Argentinian city she fell in love with while studying abroad. That was a conscious choice. "I'm excited to be learning about a completely different culture and way of life," she says. "I think I'll learn so much about human interaction and life experiences different than my own. Ultimately, I hope this experience will teach me a lot about my own privilege."
---
—Tony Marchetti