The New England Journal of Medicine published today an article on polycythemia vera, a rare blood disease in which the body makes too many red blood cells, co-authored by Associate Professor of Mathematics and Statistics Michael Ochs and Dr. Jerry Spivak, director of the Center for the Chronic Myeloproliferative Disorders at Johns Hopkins.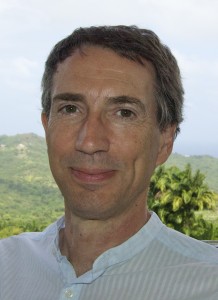 Ochs found that men with polycythemia vera have twice as many up-regulated or down-regulated genes as women with the disease, in comparison to gene expression in the patients and in healthy persons of the same sex. It sounds a bit complicated, but for Ochs the task – and his research – boils down to correctly estimating the probability of different potential molecular activities in cancer.
And his work was crucial to Dr. Spivak, providing the statistical analysis to better understand the disease. Their research is on going at Johns Hopkins, where Ochs worked before coming to TCNJ in August of 2013.
Ochs has had a long and varied career, earning his bachelor's at Haverford College in chemistry, a master's in Celtic languages and literature at Harvard, and his PhD from Brandeis in physics. He worked for a large defense contractor for a year, delved into solar energy and spent two years in a lab studying monkey AIDS.
"I was basically a lab technician," he said. "The lab techniques at the time in molecular biology were primarily chemistry."
Admittedly, he says, "It's been a meander," but his statistical analysis has proved crucial, and his cancer research has been lengthy. Prior to joining Johns Hopkins, he spent 10 years at the Fox Chase Cancer Center developing methods for analyzing biomedical data.
Ochs's interests focus on how to correctly estimate the probability of different potential molecular activity in cancer. He has been described as a computational statistician specializing in the analysis of biological systems. A new book he edited is Gene Function Analysis, which is part of a methods in molecular biology series published by Springer Protocols.
At TCNJ he teaches statistic courses and focuses on developing the ability to choose statistical approaches for real world problems. "I focus on the intersection of statistical learning and biological systems with a primary interest in the molecular activity in cancer," he said.
He is impressed by TCNJ's collegiality after a year on the campus. "I get tired by the end of a semester, but I am having fun. I'm impressed with the students and my expectations have been exceeded."
---
—Mary Jo Patterson