The College of New Jersey once again tops U.S. News and World Report's list as the top-ranked public institution in the northern region of the country.
The 2015 list ranks TCNJ as the number one public and third overall school in the standings among both public and private institutions in the Best Regional Universities category for the northern region of the country, up from fifth position in 2014. TCNJ is the only public institution ranked in the top 10.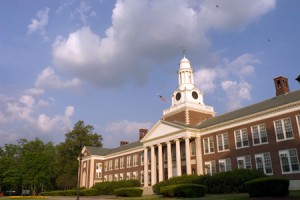 TCNJ tops the list for the highest percentage of freshmen coming from the top 25 percent of their high school class, 89 percent, and is tied for the highest graduation rate, 94 percent.
Additionally, TCNJ ranks second on the Web-exclusive list of "Best Undergraduate Teaching" for Regional Universities in the north. Based on peer responses, U.S. News identified schools that were most often cited by presidents, provosts and admissions deans as having a faculty with an unusually strong commitment to undergraduate teaching. The faculty at TCNJ provides a highly collaborative and a supportive environment for undergrads, where they serve not only as teachers, but mentors and research partners.
The complete list of the 2015 rankings, as well as methodology, can be found at www.usnews.com/colleges.