Senior music performance major Olivia Porada knew that in order to achieve her goals she needed to get moving and shaking, so to speak, in addition to singing. Interning in the finance and marketing departments at the Metropolitan Opera in New York City helped expand her repertoire more than she ever imagined.
While an internship isn't required in her major, Olivia wanted to get as much experience as she could so she sent her resume to the Met for what she considered to be a long shot chance. When the CFO called her in for an interview, they just clicked.
"It's all about making connections with people," she notes. "I have created a really strong network of people."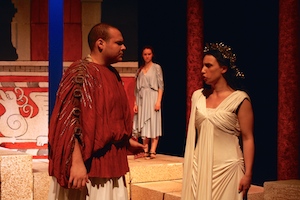 Olivia fostered her relationships over the course of two summer internships at the Met. During her first summer, she assisted in planning the logistics for their outdoor summer concert series—things like making sure the piano arrived on time and arranging for cars and food for the talent. This year, she was asked to page-turn on stage for the pianist, Dan Saunders, which she says, "was amazing."
"It was scary at first, but then I got up there and it was really cool. I was there for sound checks and warm-ups. I had to dress up. I was part of the show."
Some of her best experiences were had by just being present. "The pianist often gave critiques to the singers, so I was there and able to look at the music and understand the critiques and apply them to my own repertoire." The best part? Saunders invited Olivia into the studio to sing with him. "That's so cool for me. I can hear what someone in the business says about my voice, so I can improve."
At TCNJ, Olivia performs with the chorale and Lyric Theatre, where she held lead roles in the operas both semesters during her junior year.
"I was looking at the big conservatory schools, but applied to TCNJ sort of on a whim. It's not the first place you think of when you think music, but I loved the campus and I saw myself fitting in here. This is where I belong. I don't think I would have done this internship if I had gone to a conservatory; here, it was encouraged."
---
—Emily W. Dodd