A new $630,000 National Science Foundation (NSF) grant is supporting an initiative in the School of Science to recruit, retain, and graduate more TCNJ students in computer science, mathematics and statistics.
The project, "Innovative Projects in Computational Science" (iPics), will fund nine first-year students and six upper-class students for the 2014-15 academic year, providing scholarships and coordinated support programs such as tutoring, mentoring and advising to supplement those already provided by the college. Each student will receive upwards of $5,000 of scholarship money each year they are in the program.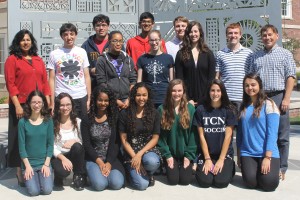 Professors Tom Hagedorn (mathematics and statistics) and Monisha Pulimood (computer science) were awarded the four-year grant this summer. A key part of the iPics grant is to organize students into teams to work on applied research problems from the very start of their college career. The professors will have students from different disciplines working together on projects with the unifying theme of computational science.
"Applying theoretical knowledge to projects that solve real problems has been found to increase retention and graduation rates," said Hagedorn, chair of the mathematics and statistics department. "Encouraging this type of work increases motivation and persistence, and allows students to envision a successful career in their major."
An additional goal of the grant is to increase the diversity of majors at TCNJ in these disciplines. Pulimood, chair of the computer science department, adds that "by engaging students from diverse backgrounds in these projects, we are seeking to dispel the myths of who can and cannot do math and computer science."
This project builds on the successful PERSIST Scholars program in biology and chemistry and will translate many of the same approaches and lessons learned through that program to math and computer science students.
"With this new award, the School of Science currently has two active grants providing over $1.2 million in student support," said Jeff Osborn, dean of the School of Science. "These two mission-centered awards, along with our past PERSIST and Gateway to Graduate School in Biology grants, have collectively brought in more than $2.5 million over the past five years to directly support scholarships for undergraduate students from diverse backgrounds."
iPics is funded through NSF Award Number 1356235.