Risks and returns are the name of the game in business—the greater the risk, the greater the potential for big rewards. This past summer, three rising senior business majors played that game all the way to a reward they never saw coming—a personal invitation to pitch their ideas to the CEO of Tommy Hilfiger USA.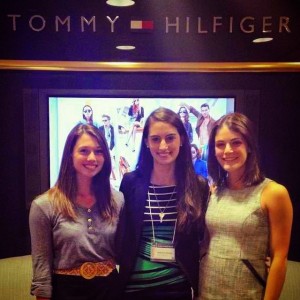 "You can make opportunities for yourself, or you can just be there," says Jenna Nerger, an interdisciplinary business major who interned at PVH Corp., along with Tracy Kaplan (marketing major) and Stephanie Menakis (management and psychology double major). From the outset, these women were determined to shake things up.
Getting an internship with the company that owns brands such as Tommy Hilfiger, Calvin Klein, IZOD and Van Heusen was a reward in itself, as they beat out 1,000 applicants for three of only 30 available paid internship positions. The trio, assigned to different offices, worked on projects to increase awareness of PVH brands to millennials.
"After we realized that our projects were similar, we decided to team up to make sure we covered all of our bases," says Kaplan.
The culminating experience of their 10-week internship was presenting their strategies for a Campus Brand Recognition program—their own idea—to some of PVH's top management, including CEO of the Tommy Hilfiger brand, Gary Sheinbaum. They pitched ideas for harnessing social media, building relationships with campus clubs as brand ambassadors, and organizing pop-up shops on campuses to put brands directly in the hands of their target audience.
The three sensed they had piqued Sheinbaum's interest, so Nerger took the risk and approached him afterward, expressing the group's interest in talking more with him about their ideas.
The quick ask resulted in a trip to Tommy headquarters in New York City the very next day for a two-hour follow-up with Sheinbaum and two VPs, who were eager to learn how the group's plan could successfully reach a large segment of their target audience. The trio walked away from that meeting with real-deal experience, a sneak peak at the spring 2015 collection, and high-power connections as they start to look at careers.
Nerger believes that what TCNJ professors teach has rubbed off on her. "[They] stress the importance of collaboration, which is exactly why Tracy, Stephanie and I immediately connected to brainstorm," she says. "By working together, we made big things happen."
---
—Emily W. Dodd