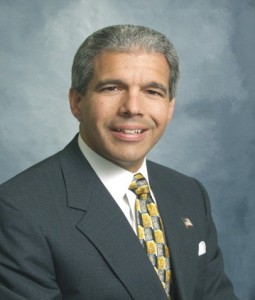 The nominating committee of The College of New Jersey's Board of Trustees announced the election of Jorge A. Caballero as chair of the board. His term began October 7, 2014.
President Gitenstein said, "Since I joined the college, I have been fortunate to work with exceptional individuals who served as chairs of the Board of Trustees. Each one brought special skills for special times. Again, we are fortunate that the board has elected a trustee who demonstrates all the skills and abilities necessary for this important leadership role. Mr. Caballero's knowledge of financial management and his thoughtful commitment to the principles of quality education make him the perfect chair for TCNJ at this time."
Caballero, a certified public accountant, currently serves as a Senior Partner in the East Region, is on the Board of Deloitte Tax LLP, is a member of the Tax Executive Group, and serves as the Deloitte Tax National Diversity and Inclusion leader. He was appointed to TCNJ's Board of Trustees in 2008 and has previously served as secretary of the board.
"I am honored to have been elected chair of The College of New Jersey's Board of Trustees," said Caballero. "The college's board is comprised of talented trustees who work closely with an extraordinary president to ensure the students of this institution receive the very best higher education experience. As a citizen of the state of New Jersey, I am committed to the college's mission and believe 'the college will be a national exemplar in the education of those who seek to sustain and advance the communities in which they live.' I look forward to working with the members of the board to provide the leadership necessary to continue moving the college toward this mission."
In addition to his work on TCNJ's board, he also serves on the board of United Way of Essex and West Hudson, the New Jersey State Board of Accountancy, and the New Jersey Chamber of Commerce. He has previously served on the boards of Morris Tomorrow, and Jersey Battered Women's Service. He lives in Long Valley with his wife, Patti.
Board leadership changes
Joining Caballero as new members of board leadership are Treby Williams, vice chair, and Robert Altman, secretary. Williams, executive vice president of Princeton University, joined the board in October 2013 and serves on the College Advancement, Student Affairs, and Finance and Investments Committees. Altman, president of International Assessment Associates in Princeton, joined the board in October, 2006 and has served on the Buildings and Grounds, Student Life, and College Advancement committees and currently chairs the Academic Affairs committee. Both Williams and Altman reside in Princeton.
In addition to the executive committee, Kevin Kim was sworn in as alternate student trustee. Kim, of Mahwah, is a sophomore biology major.