Yaogun is the Chinese word for "rock and roll," but what is Chinese rock and roll?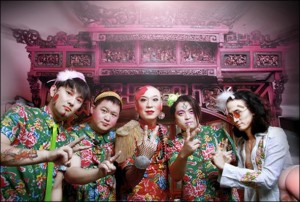 Jiayan Mi, associate professor of World Languages and Cultures, has been working with students in his "Rock and Roll in Post-Mao China" First Seminar Program (FSP) class since 2009 to explore that question. On Oct. 16, the class—and the campus—will get a first-hand look at Second Hand Rose, an up-and-coming Chinese punk rock band currently making their inaugural trip stateside.
"The whole concept of rock and roll is from the west," says Mi as he describes the early days of yaogun. Rock and roll in China began as early as 1986 with artists imitating Western classic rock ideals such as The Beatles and The Rolling Stones before moving toward heavy metal and even rap. In 1994, Chinese punk rock started to emerge.
Punk rocks exists in what Mi describes as the second wave of Chinese rock and roll—if the first wave can be described as "made in the West but renovated in China," the second wave is the shift toward music that may be inspired by the west but is more authentic to China.
"That's why you have Second Hand Rose," Mi says. "Second hand­—it's self-mocking. They're saying, 'We're not original.'" However, for this band, much of their inspiration comes from traditional Chinese folk songs and elements of their performance are inspired by the Peking Opera. The lead singer can even be compared to David Bowie, with his ornate, gender-bending costumes.
During their 80-minute performance, Second Hand Rose will perform several songs, taking time in between each to put their lyrics into context.
In China, songs lyrics are often censored for their political content. Artists are forced to get creative in their messaging to avoid being red-flagged by the government, but without losing their meaning. Mi says that Second Hand Rose's lyrics are largely colloquial slang and that a translation to render the fully intended meaning of the songs is nearly impossible thanks to their double entendre and puns.
"The music is so subversive, but with censorship in China, the bands can't point fingers [at the government]," he says. Hence the innuendo.
Mi suggests watching "Clingy," one of the band's more popular songs, on YouTube. Then come check out their (free) live performance on Thursday, Oct. 16 at 5 p.m. in the Don Evans Black Box Theatre in Kendall Hall.
Check out four more Chinese rock bands you need to hear.
---
—Emily W. Dodd '03