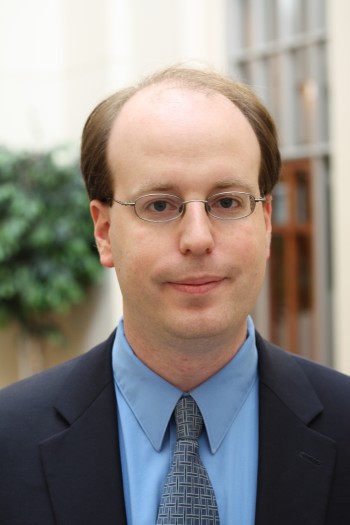 In just 11 seemingly innocuous words, the Nobel Committee stopped Ben Gross in his tracks: "The invention of the blue LED is just 20 years old."
Gross, the curator of the Sarnoff Collection at TCNJ, knew better.
The work that won three Japanese scientists the 2014 Nobel Prize in Physics on October 7 did indeed go back two decades, but Gross had held in his own hands a blue LED, invented at RCA and now part of the Sarnoff Collection, that was more than twice that age—42 years old to be exact.
"I did a little digging online, but RCA didn't receive any particular mention," says Gross. "History was being compressed."
The next day, Gross had cleared his calendar and set to writing an op-ed for the Wall Street Journal about the technology that today produces energy-efficient white light, as well as the camera flash on an iPhone and the laser in a Blu-ray player.
"It wasn't outrage that was driving my effort," he says. "It was that history wasn't being presented accurately."
"The story of the blue LED begins not in Japan but in New Jersey at the Princeton laboratories of the Radio Corporation of America," wrote Gross in "How America Lighted the Way for a Japanese Nobel," his Oct. 9 WSJ piece.
"The Japanese scientists who received this year's Nobel Prize in Physics certainly deserve recognition," he continues. "Together they made the blue LED a practical commercial product. But their work built on material research conducted decades earlier on the other side of the Pacific."
The Nobel gave Gross the platform to bring the RCA contribution to light, and it also put him in touch for the first time with the RCA scientist responsible for the blue LED prototype, Herbert Maruska.
For a WHYY broadcast of The Pulse that aired October 17, Gross, Maruska—on speakerphone from his home in Florida—and Sarnoff volunteer Jonathan Allen set to power on the planet's oldest blue LED.
"Initially, the instructions we had from Dr. Maruska didn't seem to make the diode light up, but we hooked it up to another power source and tried again," says Gross. "And it started to glow a beautiful blue."
---
–Renee Olson