Two students in the School of Science have been selected as inaugural scholars for the New Jersey Governor's STEM Scholars Program.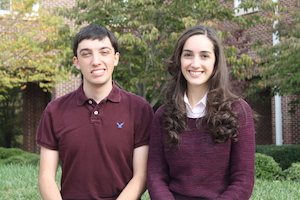 Brandon Gottlob, junior computer science major, and Susan Knox, junior chemistry major, will spend the academic year mentoring high school students from around the state who are interested in the STEM disciplines—science, technology, engineering, and mathematics.
The goal of the program is to educate students about STEM opportunities within the state and encourage New Jersey's economic development by further developing the state's STEM talent pipeline. It brings together a diverse and representative group of 50 high school and post-secondary student leaders who are interested in pursuing STEM-related majors and careers.
Gottlob and Knox will play key roles in giving high school students hands-on experience in their respective fields by designing projects for the students.
Under Gottlob's mentorship, high school students will create an Android app using MIT AppInventor, which creates apps using drag and drop components instead of a programming language.
"The main goal of the app is to introduce students to the thought process involved in the software development process," Gottlob says. His team is considering an app involving geofencing—a way to use GPS to define geographical boundaries.
Gottlob is currently serving as vice president of TCNJ's Association for Computing Machinery and is a member of the Mobile Application Development Club. He plans to pursue a career in software development.
Knox will lead her team through an experiment in the chemistry and physiology of smell.
"Smell is conveyed by the olfactory receptors in the nose," Knox says. "[When] receptors [do] not work properly, the trigeminal nerve—also found in the nose—may still function." The trigeminal nerve relays information such as the cooling of peppermints or the burning sensation of hot sauce. In her experiment, students will stimulate and measure the functioning of their own trigeminal nerves.
Knox is currently serving as vice president of TCNJ's Student Chemists Association and as a TCNJ Student Ambassador. At her internship at Johnson & Johnson this past summer, she investigated new technology in Oral Care Platforms. She plans to pursue a career in biochemistry.
Through a series of conferences and trips to STEM organizations across the state, these student leaders are afforded opportunities to work closely with professionals, research organizations, and state policymakers to learn about and experience the state's STEM economy.
The Governor's STEM Scholars Program is a public-private partnership among the Research and Development Council of New Jersey, Governor's Office, New Jersey Department of Education, and Secretary of Higher Education.